Rose, Richard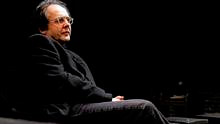 Richard Rose. Photo by Della Rollans, The Globe and Mail
Ontario-based director, born January 18, 1955 in Maracaibo, Venezuela, and grew up in Sudbury, Ontario. He was the founding Artistic Director of Toronto's Necessary Angel Theatre. From 2002 to 2020, Richard Rose was the Artistic Director of the Tarragon Theatre.
For Necessary Angel, Richard Rose has directed David Young's Inexpressible Island, adaptations of Michael Ondaatje's Coming Through Slaughter and Timothy Findley's Not Wanted on the Voyage, as well as productions of John Krizanc's Tamara, The Half of It and Prague, among many others.
For Stratford Festival he has directed Taming of the Shrew, Coriolanus, Comedy of Errors, As You Like It; Robertson Davies' World of Wonders; and Jean-Marc Dalpé's Eddy. In 2000 he directed his adaptation of King Lear, Hysterica and Titus Andronicus at Stratford.
He has directed at several other companies, including Canadian Stage (Arcadia, Transit of Venus); Buddies in Bad Times (Jason Sherman's It's All True, 1999); and Great Canadian Theatre Company (Ondaatje's The Collected Works of Billy the Kid). He also directed David Young's Clout at the National Arts Centre (January, 2001).
During his tenure as A.D. of the Tarragon, he has directed Rocking the Cradle, House of Many Tongues, Another Home Invasion by Joan MacLeod (2009), Moliere, Alias Godot by Brendan Gall, Democracy by John Murrell, Scorched by Wajdi Mouawad (2008), The Oxford Roof Climber's Rebellion by Stephen Massicotte (2006), among others. His controversial decision not to produce Michael Healey's new play, Proud, a satirical portrait of Prime Minister Harper, resulted in a rupture with Healey and Morwyn Brebner, both writers-in-residence at the Tarragon.
He has also directed for opera and film.
In January, 2000, Richard Rose told Eye (Toronto) of his own work with Necessary Angel, "[We] won't approach things simply...we want to look at the contradictions, to look at paradox and people wrestling with desire and personal history and politics. I guess I look for a certain three-dimensionality of experience. When I read plays that don't seem to interest or suit me, it's usually because they don't incorporate the fact that a person is thinking. There's a great Howard Barker line from The Possibilities: 'The common man? I never met him.' I'm trying to avoid moving to 'common,' I guess. I'm interested in plays where people think as well as feel."
He retains many of his early goals: "Still trying to change the world but instead of a mass movement from my younger aspirations, I want to change one person at a time and maybe only for a bit of time. Somehow I also want it to change me."
In 2011, he was the recipient of the Canada Council's Walter Carsen Prize for Excellence in Performing Arts.
An archival collection on this subject is available at the L.W. Conolly Theatre Archives at the University of Guelph, Ontario.
Profile by Gaetan Charlebois and Anne Nothof
Last updated 2020-07-01