Sy, Jovanni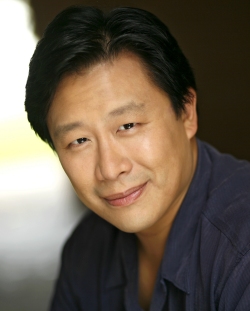 Jovanni Sy
Canadian playwright, actor, and director, with Chinese-Filipino ancestry. Jovanni Sy was born in Manila, and grew up in Vancouver, British Columbia. He relocated to Ontario to study engineering at the University of Toronto, before deciding to become an actor, mentored by RH Thomson. For twenty years, he was active in the Toronto theatre community.
Sy was a member of Factory Theatre's Playwrights' Lab from 2001 to 2004, and the Playwright-in-Residence at Tapestry New Opera Works in 2005. In 2010, he was playwright-in-residence at the Shaw Festival.
His acting credits include Wong Foon Sing in Sharon Pollock's End Dream (Theatre Junction 2000); Iron Road, a new Canadian opera (2001); Fear of Flight at the 2010 Winter Olympiad. He has also performed extensively in film and on television.
He directed Jean Anouilh's Antigone, David Harrower's Blackbird, and Yasmina Reza's The God of Carnage for Theatre du Pif in Hong Kong.
From 2004-2009, Jovanni Sy was artistic director of Cahoots Theatre Projects. In 2011, he returned to Cahoots to perform his one-man play, A Taste of Empire (dir. Guillermo Verdecchia), in which he prepared a traditional Filipino fish recipe in the St. Lawrence Market Kitchen, while comically deconstructing the historical, political, and ethical implications of the dish, particularly in respect to the Spanish colonization of the Philippines, and the globalization of jobs and food production. It was nominated for a Dora Mavor Moore Award.
From 2012 to 2019, Sy was Artistic Director of Gateway Theatre, inaugurating the Gateway Pacific Theatre Festival in August 2014 with three productions in Chinese from Hong Kong. In 2016, he produced the Pacific Series, a year-round, Chinese language series (with English surtitles) as an alternative to the Gateway's subscription series of English-language plays.
in 2018, his murder-mystery play, Nine Dragons premiered at Gateway Theatre, in a co-production with Vertigo Theatre and Manitoba Theatre Centre. Set in Hong Kong in the 1920s, it features a Chinese detective, frustrated by the racism and discrimination of a colonial society, whose antagonist is a wealthy assimilationist "businessman" who preys on women. It was published by Talonbooks in 2018.
Hi comic kung-fu thriller, The Five Vengeances, opened at the Shadbolt Centre for the Arts, Burnaby BC in September 2022. A master swordswoman seeks to avenge the death of her bride-to-be.
At the University of Calgary, he is taking an MFA. His thesis project is a "Crazy Rich Asians" style adaptation of William Congreve's Restoration comedy, The Way of the World as The Tao of the World which premiered in February 2022 in the University Theatre (dir. Sy). "After a global pandemic has kept everyone isolated for nearly two years, Singapore's wealthy elite try to make up for lost time by hatching schemes to bed other people's partners and to swindle one another out of dynastic fortunes. The Tao of the World presents a licentious and libertine world where the lessons of the pandemic may not have been learned" (University of Calgary, School of Creative and Performing Arts website). Sy was awarded a Tom Hendry Award for comedy by the Playwrights Guild of Canada in 2022.
Sy returned to acting in June 2022, playing Mr. Miyagi, the mentor of the young hero, in the musical adaptation of the popular and iconic 1984 film The Karate Kid. It premiered at Stages, St. Louis, in a pre-Broadway run, and has been critically acclaimed. In 2023, he played the warden in Prison Dancer, at the Citadel Theatre, a musical with a Filipino cast.
Sy considers himself a "theatre animal," learning the craft, and focusing on the art. He currently is based in Vancouver Alberta with his wife Leanna Brodie.
Profile by Anne Nothof, Athabasca University
Last updated 2023-05-19