Williams, Nigel Shawn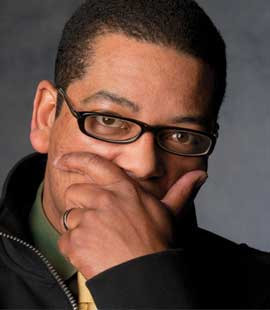 Nigel Shawn Williams
Widely respected and acclaimed actor and director, graduated with a BFA from the School of Dramatic Art, University of Windsor. Nigel Shawn Williams is currently based in Toronto Ontario. He has persuasively played a wide range of roles in major Canadian theatres.
Williams has appeared in Belle (Factory Theatre); Two Words for Snow (Volcano Theatre); Dying is Easy, A Guide to Mourning by Eugene Stickland, as Salieri in Amadeus (Alberta Theatre Projects); Angels in America Part I, and Democracy by John Murrell (Manitoba Theatre Centre); Macbeth (Young People's Theatre); The Wars of the Roses Trilogy (Canadian Stage); Wade in the Water by George Elroy Boyd (Black Theatre Workshop at Centaur Theatre); Love's Labour's Lost (National Arts Centre); Girl in the Goldfish Bowl by Morris Panych (Thousand Islands Playhouse); Consecrated Ground by George Elroy Boyd (Obsidian Theatre Company); The Overwhelming (Studio 180 at Berkeley Street Theatre, 2010); Cruel and Tender by British playwright Martin Crimp, dir. Atom Egoyan (Canadian Stage, 2012); and The Virgin Trial by Kate Hennig, dir. Glynis Leyshon (Alberta Theatre Productions 2018).
At the Stratford Festival, Williams has performed in Guente Ovejuna; Harlem Duet by Djanet Sears (2006); The Odyssey by Derek Walcott, dir. Peter Hinton (2007); Palmer Park by Joanna McClelland Glass (2008); Treasure Island; Twelfth Night; Our Town.
For the Shaw Festival he has performed in The Millionairess, Six Characters in Search of an Author, Rashomon, The Simpleton of the Unexpected Isles, The Petrified Forest, and The Six of Calais. For the 2011 season, he played Lincoln in Topdog/Underdog, and Morrell in Candida.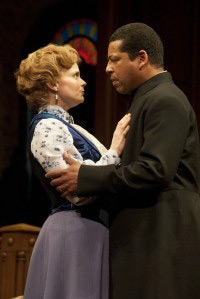 Clair Juillien as Candida and Nigel Shawn Williams as Morrell in Candida), Shaw Festival 2011.
He has won three Dora Mavor Moore Awards for his performances in the Canadian Stage production of Six Degrees of Separation; in Volcano Theatre's production of Two Words for Snow; and in the Shaw/Obsidian Theatre production of Topdog/Underdog.
Of his role as Odysseus in The Odyssey, Richard Ouzounian wrote: "Williams has been a tower of strength throughout as Odysseus, but now he offers us the full extent of his wounded soul. The effect is shattering. By the time he delivers the final line of the text, 'Monsters, we make them ourselves,' the intent of both Walcott and Hinton's vision becomes clear." (Toronto Star, 10 Aug 2007)
Williams has also performed in film and television, including a recurring role in the Disney series The Famous Jett Jackson.
More recently, he has directed in a wide range of productions in theatres across Canada, including an acclaimed production of A Line in the Sand by Guillermo Verdecchia and Marcus Youssef at Factory Theatre in March 2016. In 2017 he directed Art at the Grand Theatre London, The Merchant of Venice at Bard on the Beach, and a production for Cahoots Theatre. In 2018, he directed To Kill a Mockingbird at Stratford as a memory play, disrupting the entrenched film interpretation of the characters. For the 2019 season at Stratford, he directed Othello.
He teaches and directs the graduating class at the National Theatre School of Canada.
Profile by Anne Nothof, Athabasca University
Last updated 2022-03-08