Hetherington, Carolyn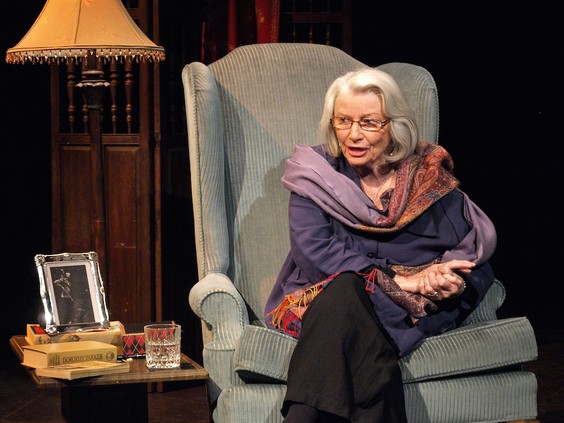 Carolyn Hetherington in Women Who Shout at the Stars. Photo courtesy of Ottawa Citizen.
Magnificent character actor, born in 1931, Carolyn Hetherington has played in a wide variety of roles across Canada for fifty years.
Among the houses and companies where she has performed are Stratford Festival, the Winter Garden, Theatre Passe Muraille, Theatre Plus, Necessary Angel, Tarragon Theatre, Grand Theatre, London, Citadel Theatre, National Arts Centre, Thousand Islands Playhouse, Sudbury Theatre Centre, and Centaur Theatre, where she became a favourite.
At the Centaur, she appeared in the premiere of Kit Brennan's Having and in Martin McDonagh's The Beauty Queen of Leenane (both in 1999); she won the Montreal English Critics Circle Award for her performance in Beauty Queen....
In 2007, she appeared with Eric Peterson in Half Life by John Mighton in productions across the country at the Tarragon, Arts Club Theatre, Centaur, Citadel and Alberta Theatre Projects. Critic Jerry Wasserman deemed Hetherington's performance as Clara, whose memory is clouded by dementia, "heartbreaking."
In 2014, at the age of 83, Hetherington undertook her first Fringe Festival performance in Ottawa with Women Who Shout at the Stars. Written and acted by Hetherington, it portrays three women: Carolyn, her mother Gwen -- "a suicidal socialite with a waspish tongue and a fondness for gin" (Ottawa Citizen review), and Carolyn's cockney nanny Edie, who experience the world's sadness and joys in terms of their interconnected lives. Hetherington also appeared in this work at Thousand Islands Playhouse in October 2012.
In 2019, at the age of 88, she performed in her short vignette, entitled The Witch Came Out, a harrowing account of the violent paranoia brought on by post-surgery medication in a hospital, one in a series of diverse plays by women called Welcome to My Underworld, produced by Rare Theatre Company and Soulpepper Theatre Company (directed by Judith Thompson).
Hetherington has also appeared on television and film, including Away from Her (2006), Avonlea (1990) and Seeing Things (1981).
Profile by Gaetan Charlebois and Anne Nothof, Athabasca University.
Last updated 2021-01-25