Clark, Sally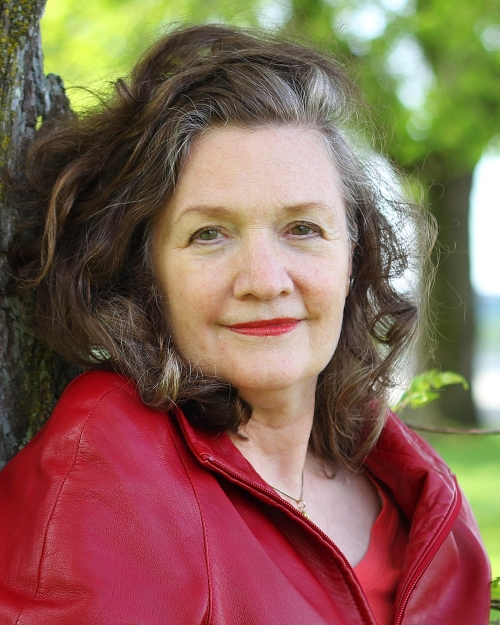 Sally Clark
Playwright, filmmaker, and artist, born in Vancouver, British Columbia in 1953. She moved to Toronto Ontario in 1974 to pursue a career as a painter, and completed a B.A. in Fine Arts at York University in 1975. Her vibrant west coast landscapes and portraits have appeared in many juried exhibitions.
She has been playwright-in-residence for Theatre Passe Muraille, Shaw Festival, Buddies in Bad Times, Nightwood Theatre, and Nakai Theatre in Whitehorse. She was also the writer-in-residence at the Pierre Burton House Writers' Retreat in Dawson City, Yukon.
Her first play, Ten Ways to Abuse an Old Woman about the dysfunctional relationship of a mother and daughter, opened at Buddies in Bad Times in 1983. Lost Souls and Missing Persons premiered at Theatre Passe Muraille in 1984, directed by Clarke Rogers. Trial (Tamahnous Theatre, 1985, directed by Morris Panych) was rewritten as The Trial of Judith K (Canadian Stage, 1989). Based on Franz Kafka's novel, The Trial, this black comedy features a businesswoman, Judith K., who is accused of an unknown crime by an unknown bureaucracy. The Trial of Judith K. was nominated for a Dora Mavor Moore Award and a Governor General's Award.
She won the Chalmers Award for Moo (playRites, 1988, directed by Glynis Leyshon). It portrays the all-consuming passion of a woman named Moo for a man who continually rejects her for fifty years, until she is finally totally incapacitated in an asylum.
Jehanne of the Witches opened at Tarragon Theatre, 1989, directed by Clarke Rogers. Life Without Instruction (Theatre Plus, 1991, directed by Glynis Leyshon) is a "revenge comedy" about the Italian Renaissance painter, Artemisia Gentileschi, who is raped by the instructor hired by her father. Saint Frances of Hollywood is a tragic portrait of the Hollywood star, Frances Farmer, institutionalised and silenced by the government for her communist sympathies (Alberta Theatre Projects, 1994, directed by Charlotte Lee). Wanted (Nakai Theatre, directed by Michael Clark), a play set after the Klondike Gold Rush, when gold was scarce and desperation rampant, toured the Yukon. In Wasps, a sensible librarian regrets her hasty marriage and its attendant social expectations (Factory Theatre, 1996). The Widow Judith was produced at the Glen Morris Studio Theatre, University of Toronto, 1998. Her plays are published by Talonbooks.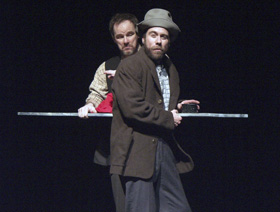 Keith Thome and James McCullough in Wanted, Nakai Theatre.
According to critic Jerry Wasserman, most of Clark's plays feature women judged mad or guilty by men "in the patriarchal systems they administer with nightmarish logic... Yet the plays are very funny and the women almost all extraordinary, strong and outspoken."
Sally Clark also writes and directs for film. In 1992, she was a resident at the Canadian Film Centre where she wrote and directed a short film, based on her earlier play, Ten ways to abuse an old woman. It won the Special Prix du Jury at the Henri Langlois International short film festival. Her short film, The Art of Conversation won the Bronze Award for Best Dramatic Short at the Worldfest Charleston Festival.
Waiting for the Revolution, a novel that takes a jaundiced look at hippy life in Toronto in the 1970s, was published in 2010 by Cormorant Books.
Since 1994, Sally Clark has lived in Vancouver.
Website: http://sallyclark.ca
Source: Jerry Wasserman. "Sally Clark," Modern Canadian Plays Vol.II, 4th ed. Vancouver: Talon, 2001.
Profile by Anne Nothof, Athabasca University
Last updated 2020-11-06