Craddock, Chris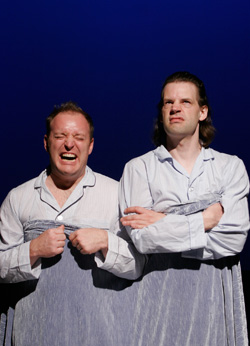 Chris Craddock (left) and Steve Pirot in Faithless. Photo by Ian Jackson/Epic
Prolific and provocative playwright and performer, born in 1972 into a religious home in Kitchener Ontario and based in Edmonton, Alberta. Chris Craddock graduated with a BFA in acting from the University of Alberta in 1996. He acknowledges the influence on his playwriting of Brad Fraser's rapid-fire dialogue and staging of sexuality; Robert Lepage's stage imagery in Polygraph; and Daniel MacIvor's raging protagonists.
Craddock has written over thirty plays, including solo shows, musicals, and plays for young audiences. His first play, an autobiographical monologue entitled SuperEd (1996), premiered at the Theatre Network new play festival, NeXtFest (published by NeWest Press 2000).
He has written several plays for the Edmonton International Fringe Movement, including Indulgences, Tranny Get Your Gun, and Men are Stoopid, Women are Cra-zy, all with Darrin Hagen; and Ha! with Wes Borg. He won a Sterling Award for his performance in Ha! a one-man show about a prairie farm boy turned stand-up comic.
He has written two plays for Rapid Fire Theatre of Edmonton: On Being a Peon, a backstage comedy from the point of view of the walk-ons in a production of Othello, and Critic, a satirical musical, in which a theatre critic is murdered. Both were nominated for Sterling Awards.
Craddock has also written plays for Azimuth Theatre, including plays for teens, The Day Billy Lived (1998) and Wrecked (2000), both of which have toured extensively throughout Western Canada and Ontario. The Day Billy Lived was adapted to reflect life on a Native reserve in co-operation with De-ba-jeh-mu-jig Theatre on Manitoulin Island. Naked at School: Three Plays for Teens is published by NeWest Press (2001), and won an Alberta Book Award.
In 2000 he premiered his monologue, Moving Along in the basement of an Edmonton home. For this production, one of the Theatre of the New Heart's Homes Series, Craddock sat in a specifically designed "electro chair" and effected his own lighting as he moved through a series of fractured moments of one man's life so far. It has toured across Canada in several updated versions. In 2012 Craddock performed a more philosophical and reflective interpretation of his life so far at Theatre Network.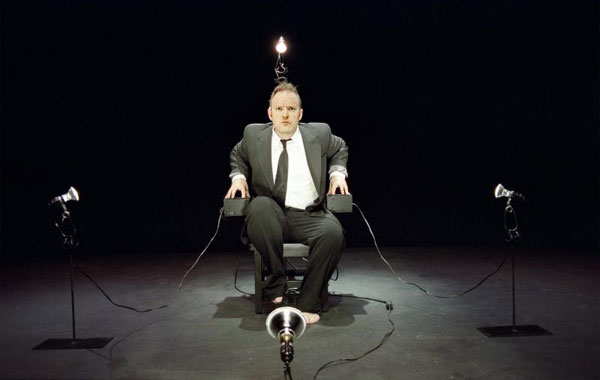 Chris Craddock in Moving Along, Theatre Network, 2012.
In 2003 his monologue Dream Life opened at Catalyst Theatre, and in 2004 he played several roles in Carmen Angel by Joey Tremblay for Catalyst (both directed by Jonathan Christenson). In 2005 he wrote and performed in Faithless with Steve Pirot for One Yellow Rabbit (dir. Marianne Copithorne).
His urban pop-culture satires have been particularly popular in Fringe Festivals across Canada: In 3 … 2 … 1 (written with Nathan Cuckow), a black tragicomedy named for the prairie boy ritual of hat-trick beer-slamming, a couple of small-town teens with no future in sight apply themselves to an epic bender. BoyGroove (2005) is a flamboyant musical sendup of 1970s Boy Bands such as The Monkeys; PopTart (2007) features an odd-couple agon, in which an unemployed pop culture fiend attempts to co-habit with her big sister, a straight-laced lawyer; Bash'd (written and performed with Nathan Cuckow, with music by Aaron Macri, directed by Ron Jenkins) is a gay rap opera, in which Romeo meets Romeo, with tragic consequences. Bash'd premiered at The Roost, a gay club, in Edmonton, in 2006 (Sterling Award for Outstanding Independent Production). It then toured to the Toronto, Winnipeg, and New York City International Fringe Festivals (2007) receiving several awards, including a GLAAD media award. In 2008 it returned to Toronto for the New Stage Festival, and was also performed at One Yellow Rabbit's High Performance Rodeo, and in the Zipper Factory Theatre off-Broadway. Since then, it has toured across Canada, including gigs at Theatre Passe Muraille, Great Canadian Theatre Company, the Cultural Olympiad, Belfry Theatre. It made its UK debut at the Dublin Gay Theatre Festival in 2010.
Craddock's adaptation of Miriam Toews' novel, Summer of My Amazing Luck (Theatre Network 2005, dir. Bradley Moss), in which he acted all the male roles, moved to the National Arts Centre for the "Alberta Scenes" celebration of Alberta theatre. For the same event he also directed Tornado Magnet: A Salute to Trailer Court Women by Darrin Hagen.
In December 2011, Craddock adapted and acted in The Velveteen Rabbit, a delightful and fanciful TYA production at the recreated Capital Theatre in Fort Edmonton Park.
His ambitious multi-character, one-man show, Public Speaking premiered at Theatre Network in 2011. It is a modern fairy-tale in which the king is a slick self-help author and speaker, with a selfish philosophy for survival which denies any responsibility: "It's not my fault and I don't care anyway." When his daughter, a narcissistic sex and drug addict, is kidnapped by a gentle giant working for a mobster, his beliefs are temporarily tested. It was published by NeWest Press in 2014, in a collection of Craddock's plays entitled Public Speaking and Other Plays (with Porn Star and Moving Along). In 2015, the play was adapted for film by Mosaic, with the title It's Not My Fault and I Don't Care Anyway, directed by Craddock, with Alan Thicke as the public speaker/father, and Quinton Aaron as the giant.
Craddock's adaptation of Miriam Toews novel, Irma Voth (Theatre Network 2017, dir. Moss), casts five actors (including himself) in multiple roles, as the young protagonist searches for freedom outside of her Mexican Mennonite colony by marrying a local Mexican boy she meets at a rodeo, working with a film crew, and experiencing Diego Rivera's murals in Mexico city with her younger sister. The play opens up the possibility for positive change in limited lives through art. It won two Stirling Awards in 2017 for Outstanding New Play and Outstanding Production.
Craddock has co-written (with Indy Randhawa) and acted in the indie film The Pharmacist (2010), filmed in Edmonton. With Matt Alden and Mark Meer, he writes for and acts in the TV sketch comedy show, Tiny Plastic Men with Mosaic Entertainment on SuperChannel, now in its fourth season.
He was Artistic Director of Azimuth Theatre (2001-2005) and Rapid Fire Theatre (2005-2009) in Edmonton.
In 2000, he was presented with the City of Edmonton Enbridge Award for Emerging Artist. He is also the recipient of the Centennial Medal of Alberta for his contribution to the arts. In 2010 he was writer-in-residence at the Edmonton Public Library, and in 2012, playwright-in-residence at Theatre Network.
Craddock is the proud father of two sons.
Profile by Anne Nothof, Athabasca University
Last updated 2020-01-14