Garratt, Gil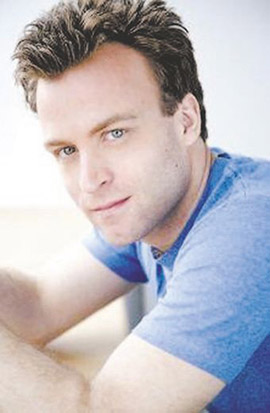 Gil Garratt
Director, playwright, dramaturge, and theatre administrator, born and raised in Toronto Ontario. Gil Garratt graduated from the National Theatre School of Canada's Playwriting Program in 1998, and has an Honours BA from the University of Waterloo, and an MA from the University of Guelph. Since 2014, he is the Artistic Director of the Blyth Festival.
Garratt's career has been dedicated primarily to the development of new Canadian plays. He has directed over fifty world premieres, and performed in more than forty in a wide range of companies across Canada, including DNA theatre, The Cabaret Company, Stratford Festival, Grand Theatre, London, Theatre NorthWest, Centaur Theatre, Canadian Stage, Neptune Theatre, Buddies in Bad Times, Manitoba Theatre Centre, and National Arts Centre. He has been with the Blyth Festival since 1999 as an actor, playwright, and director. At Blyth he has acted in: The Last Donnelly Standing (2016); Early August by Kate Lynch and Vimy by Vern Thiessen in 2011; A Killing Snow by Paul Ciufo in 2010; The Nuttalls by Michael Healey in 2009; The Mail Order Bride by Robert Clinton and a stage adaptation of Alice Munro's story Courting Johanna in 2008.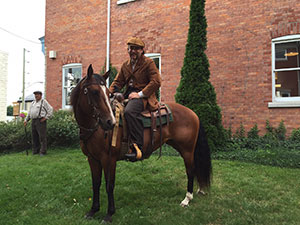 Gil Garratt as Robert Donnelly in The Last Donnelly Standing
He has written six plays: Severe Blow to the Head (The Theatre Centre 2000); The Strange Wet Saga of the Disappearing Ballerina (Buddies in Bad Times 2000); Vicious Little Boyz in the Rain (Theatre Direct/Theatre Passe Muraille 2000); Wireless (Blyth Young Company 2007); St. Anne's Reel (Blyth, 2014, dir. Marion de Vries); The Last Donnelly Standing (with Paul Thompson) (Blyth 2016, dir. Garratt).The Pigeon King, a musical about a Ponzi schemer who bilked local farmers, was co-written with the Blyth company. It premiered at Blyth in 2017, was remounted in 2018 due to popular demand, and then produced at the National Arts Centre in 2019, with Garratt as the fraudster Arlan Galbraith.
Gil Garratt is the recipient of a Dora Mavor Moore Award for Outstanding Performance, and was nominated for a Robert Merritt award in 2014. He was playwright-in-residence at Theatre Direct.
He is married to actress Gemma James-Smith.
Source: Playwrights Guild of Canada
Last updated 2019-04-30