Theatre NorthWest
Company and venue in Prince George, British Columbia, founded by Artistic Director Ted Price and General Manager Anne Laughlin.
Theatre NorthWest (TNW) began establishing its roots in the regional community in 1994 with a 26-performance tour of its first production, The Occupation of Heather Rose by Wendy Lill. One year later a small performance space was created out of a bakery warehouse in The Parkhill Centre in Prince George. Major renovations in 1997 expanded the venue to a 222 seat theatre which has provided a home for all of TNW's subsequent productions.
In 2014, in celebration of the 20th anniversary season, the theatre made major infrastructural and programming upgrades to include: New theatre seating, a renovated lobby lounge that displays local artworks, a new digital box office system, a new logo, and website.
Four to five professional stage productions are offered each season. The programming model includes modern Canadian and international works with a focus on First Nations issues with plays like Tara Beagan's Dreary and Izzy. Theatre NorthWest partners with several regional Reserves to provide theatre training where there is no access. The theatre has also partnered with the University of Northern British Columbia (UNBC) to develop a Theatre Appreciation course at the university.
Since 2014, the Theatre NorthWest has added to its four show Mainstage series a Presentation Series of Innovative works, and Theatre for Young Audiences. Through the innovation series it is premiering the Residential School piece Isitwendam (An Understanding) written by Meegwun Fairbrother and co-created by Jack Grinhaus.

The Invisibility of Eileen by Kit Brennan
Set design by Ted Price and Siebe Kamstra
Photo by Hans Saefkow
Although one of Canada's smaller regional theatres, the company has gained a reputation for its production values, its penchant for casting from across the country, and local enthusiasm for an emphasis on Canadian work. Typical examples of the latter would include 1949 by David French, Corker by Wendy Lill, A Guide to Mourning by Eugene Stickland, Amigo's Blue Guitar by Joan MacLeod, The Invisibility of Eileen by Kit Brennan, and the works of Norm Foster, Guy Vanderhaeghe and Lance Woolaver.
The 2006/07 season included The Rez Sisters by Tomson Highway, Hockey Mom, Hockey Dad by Michael Melski, and The Kitchen Witches by Caroline Smith. The 2008-09 season included How It Works by Daniel MacIvor, and Sexy Laundry by Michele Riml. The 2009-10 season included Mesa by Doug Curtis. For the 2010-11 season, TNW hosted I, Claudia by Kristen Thomson in a production by Crow's Theatre, and Kiss the Moon, Kiss the Sun by Norm Foster. The 2011-12 season featured The Clockmaker by Stephen Massicotte.
The 2015-16 season featured The Girl in the Goldfish Bowl by Morris Panych. For the 2016-17 season Theatre NorthWest is focusing on strong roles for women, including The Drowning Girls by Beth Graham and Daniela Vlaskalic; and Half Life by John Mighton.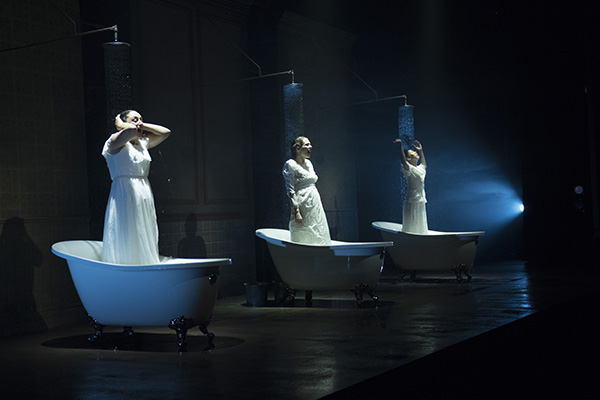 The Drowning Girls with Lauren Brotman, Heather Morrsion, and Sarah Roa. Photo by Philomena Hughes.
Theatre NorthWest now ranks as the largest arts organization in the northern two-thirds of British Columbia with the most paid attendance, the most annual performances and thousands of subscribers. Since 2015, the Artistic Director is Jack Grinhaus.
website: www.theatrenorthwest.com
Last updated 2020-02-11