Noiseux, Ginette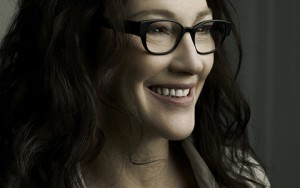 Ginette Noiseux
Designer and founder, and current general and artistic director of Espace Go, in Montreal, Quebec. Ginette Noiseux was born in Montreal in 1958, and graduated from the design section of the National Theatre School of Canada in 1978. She became an assistant to designer to François Barbeau. She then went to work for the Théâtre Expérimental des Femmes/TEF as a designer, and was soon asked to direct. Noiseaux became not only an avid proponent of feminist theatre there, but took her activism into the world of entertainment, generally, including dance, and performance art, and she toured productions around the globe.
When the TEF disbanded in 1985, she founded Espace Go. The house has championed works by writers Daniel Danis (Celle-là, Cendres de cailloux), while maintaining close ties with the feminist movement and encouraging female creators (Lou Arteau, Brigitte Haentjens, Daniele Lévesque, Alice Ronfard, Martine Beaulne, and Sylvie Drapeau.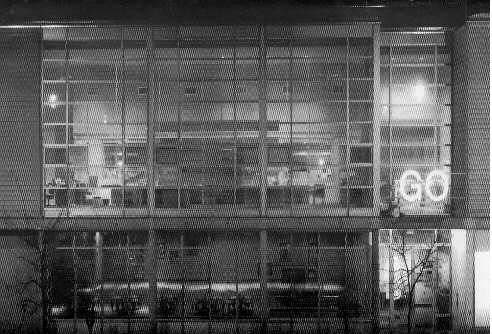 The new Espace Go, completed in 1995.
By working with business and government, she initiated the move into a new house; a rare new theatre rather than a renovation.
Noiseux has built Go up slowly but surely. Each season has represented a distinct improvement on the previous one. What must surely be seen as the apex of the company's and Noiseux's stature, however, is the 1995 production of Michel Tremblay's Albertine, en cinq temps which enraptured critics and audiences and was sold out for its entire run and several extensions. It featured a rarely equalled cast-Guylaine Tremblay, Sylvie Drapeau, Monique Mercure, Élise Guilbeault, Sophie Clément and Andrée Lachapelle (directed by Martine Beaulne).
In 1998, Ginette Noiseux tangled with Montreal critics in a well publicized debate involving the actions of critic Gaëtan Charlebois, who shouted out, "C'est d'la merde!" at the end of a performance. The resolution was fairly amicable and the debate, finally, was an important one about the rights and responsibilities of critics.
Noiseux returned to designing for Go's productions, creating the costumes for the April, 1999 production of Ionesco's Le roi se meurt/Exit the King.
She calls herself an entrepreneur and a fighter, who happily welcomes challenges. In 2010, she was named one of 100 women leaders of the future by Magazine Entreprendre, and personality of the week by La Presse and Radio-Canada. In 2017, she was named Officier dans l'Ordre des Arts et des Lettres de la République française in recognition of her contribution to the diffusion and promotion of French culture in Canada, and the to the collaboration between French and Canadian institutions. In 2018, she became a companion of the Ordre des arts et des lettres du Québec; and in 2020, a member of the Order of Canada.
She married lighting designer Guy Simard in 1995, and she is the mother of two boys.
Profile by Gaetan Charlebois.
Last updated 2021-07-12