Designing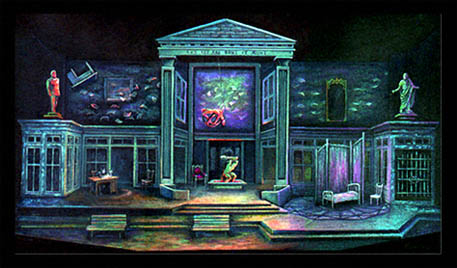 It is probably not possible to write, anymore, a comprehensive article about theatrical design in Canada, without merely signalling the names and styles of the best designers across the country. Many of these designers, like Stephane Droege in Toronto and Eo Sharp in Montreal, are not designing for the big theatres with the large budgets; they are using what is available to them with talent and imagination.
What must be mentioned, however, is that Canadian designers are now recognized internationally through the reputations of the theatres for which they work, such as the Stratford Festival, by the touring activities of many of the alternative companies (Primus, Carbone 14) or through a network of awards like the Dora Mavor Moore Award, which now understand that to design well is not simply a case of throwing a million dollars at a problem. The Doras now offer awards in design in a variety of categories, making distinctions between large, medium and small theatres.
The design arts: lighting, costuming, set design (sometimes joined together in various combinations and called scenography), and, to a lesser extent, makeup, are at an apogee in Canada and this in a very short period of time. Like all the other theatre arts in Canada, the creation of the design professional is a relatively new thing. The design artist rose to prominence after the playwright, director and the actor when it was realized that designers were as much a part of the process of production creation as the text and the speakers of the text. Though artists had been enlisted in the design of the play prior to 1940, they were rarely what we would now call the design professional; instead they were sometimes painters like Arthur Lismer or Lawren Harris of the Group of Seven, who had a grip on aesthetics but not technology. But with the rise of technology in theatre here and abroad, it became clear that a new "hybrid" was required.
With the creation of large arts companies for ballet, opera and theatre festivals, these hybrids were usually brought in from outside (and in some cases still are). But the theatre community was also creating its own designers. Also, the foreign artists were indicative of an education that could be had elsewhere, which explains why many of our early artists have stays in Europe or the US on their resumés.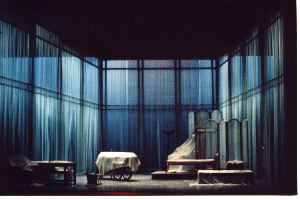 In 1960s, with the construction of modern theatres across Canada and the creation of the National Theatre School of Canada, the training of designers became focused, and design artists began to assume their places in the scheme of things.
But again, and this must be stressed, some of our best designers are multi-talented in the types of theatres and productions for which they design, and can work well with limited budgets. A recent case in point was Espace Go's production of Daniel Danis's Cendres de cailloux. It brought together one of the most extraordinary teams of designers available in the country, each experienced and able to work with budgets ten times the size of this production's: Daniele Lévesque (set), Lou Arteau (lights) and François Barbeau (costumes). What they produced was one of the most exciting designs to be seen in Montreal in nearly a decade, and virtually every critic in the city mentioned it, proving again that a reduced budget does not mean reduced imagination. Alternative companies, and performers in the Fringe Movement are also employing imaginative design with limited budgets.
On the other hand, design teams with Cirque du Soleil, Carbone 14, and Pigeons International continue to show the world that Canada not only has the exportable theatrical commodities, but also the aesthetic vision to render the commodity an artistic whole.
Some of the designers with separate articles in the Canadian Theatre Encyclopedia on the WWW: Claude Accolas, Elizabeth Asselstine, Lyse Bédard, Michel Beaulieu, Susan Benson, David Boechler, Alan Brodie, Paul Bussiéres, Daniel Castonguay, Michel Catudal, Patrick Clark, Jennifer Cooke, Charlotte Dean, Marcel Dauphinais, Morris Ertman, Harry Frehner, Leslie Frankish, David Gaucher, Michel Goulet, Peter Hartwell, Ereca Hassell, Steven Hawkins, Kevin Lamotte, Olivier Landreville, Dominique Lemieux, Sue LePage, Guillaume Lord, Alain Lortie, Spike Lyne, Jean-Charles Martel, Christina Poddubiuk, Cameron Porteous, Robert Prevost, John Alonzo Russell, Phillip Silver, William Schmuck, Graeme S. Thomson, Robert Thomson, Michael Whitfield, Bill Williams, Hugo Wuethrich.
See also: Associated Designers of Canada; and Documents of Interest - Theatre in Victoria, c. 1850.
Profile by Gaetan Charlebois.
Last updated 2022-03-03