Ouchi, Mieko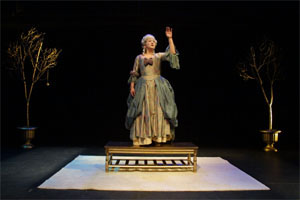 Mieko Ouchi as the Woman in The Red Priest Photo by Russ Hewitt
Playwright, actor, director, filmmaker Mieko Ouchi (b. 1969) graduated from the acting program at the University of Alberta in 1992. Based in Edmonton, Alberta, she works in theatre, film, and television.
Her first full-length play, The Red Priest (Eight Ways to Say Goodbye), was workshopped and read at Workshop West Theatre's Springboard Festival in 2000, and the On the Verge New Play Festival at the National Arts Centre in 2002. It premiered at Alberta Theatre Projects playRites Festival in 2003 (dir. Ron Jenkins), and was then produced by Workshop West, the Globe Theatre and the Tarragon Theatre. The Red Priest dramatizes a hypothetical exchange between 18th century Italian composer, Antonio Vivaldi, and his French patron's wife, who is forced to take violin lessons with Vivaldi so that her husband can win a bet with King Louis XV. In the process she finds some meaning in her life through an engagement with art. The play provides "a rich set of variations on themes of feedom, order, and loneliness" (Bob Clark, The Calgary Herald). It is published by Playwrights Press (2004). The Red Priest was a finalist for a 2004 Governor General's Award, and won the Canadian Authors Association's Carol Bolt Prize in 2005.
Her second full-length play, The Blue Light was commissioned by the National Arts Centre and premiered at ATP's playRites Festival in 2006, (with Kate Hennig as Leni). The second production was by Workshop West in Edmonton (dir. Ron Jenkins, with Sandra M. Nicholls as Leni), which provided developmental assistance with the play. The Blue Light tackles the moral and aesthetic conundrums in the life and art of filmmaker, Leni Riefenstahl, who directed "Triumph of the Will" and "Olympia" for Hitler's Third Reich. In her program note, Mieko Ouchi explains her fascination with this controversial figure: "Leni Riefenstahl holds a perplexing place in my heart. I look at her with fascination, revulsion, reverence and horror. With awe. With dismay." Leni has been judged by history, but she remained unapologetic and unrepentant, asserting that she was creating an apolitical art from politics. The Blue Light has been translated into Japanese, French and Russian, and read at the Chekhov International Festival in Moscow.
Her murder-mystery in the style of "film noir", entitled Nisei Blue premiered at the 2011 playRites Festival, also directed by Ron Jenkins. It is set in the Lotus Club on Powell Street in Vancouver, where her grandparents lived before World War II, and forty years later in the same venue, and investigates the violent consequences of racism when Japanese Canadians were targeted as aliens. The protagonist, a recently retired detective with incipient Alzheimer's, attempts to reconstruct his past, reliving his emotional relationship with a young Nisei singer, her sister, and her boyfriend, a "yellow" crooner at the Club who has drug connections. Lily's murder becomes a metonym for the lost hopes and dreams of Japanese Canadians, and their brutal marginalization.
In April, 2018, her new musical, The Silver Arrow: The Untold Story of Robin Hood opened on the Maclab Stage at the Citadel Theatre (music composed by Hawksley Workman, directed by Daryl Cloran). It provides a new twist on the classic Robin Hood adventure story, featuring a female protagonist and aerial acrobatics; and showcases the participants of the 2018 Citadel/Banff Centre Professional Theatre Program and members of Firefly Theatre & Circus.
Her most recent play, Burning Mom is a one-person account of her mother's trip in an RV to the Burning Man festival in Nevada after the death of her husband, discovering through her adventures on the road trip and at the festival, resilience and strength. Mieko presented a staged reading at Script Salon in Edmonton in 2019.
She has written, co-written, and directed many plays for Concrete Theatre, where she was Co-Artistic Director until the end of 2020. Writing credits include: Decisions, Decisions about drug abuse, racism, and dating violence; By This Parting, based in the internment of Ouchi's Japanese Canadian great aunt in a TB sanitorium during World War II; The Old Man and the Buddha, which tells the story of her ancestors' relocation from Korea to Japan in 600 A.D. In I Am For You (2013), two teenage girls get into a violent brawl at school. The drama teacher attempts to defuse the situation by exploring the dark impulses that erupt in violent conflict – and to find a way out through the art of stage fighting.
In January 2018, Concrete Theatre premiered her timely play, Consent, which "aims to educate students about their individual rights, gender equality, personal conduct and respect... sex isn't just about anatomy, but about individual rights, gender equality, personal conduct, and respect. After a confusing sexual encounter, a young couple must grapple with the emotional aftermath" (Concrete Theatre website). It won a Sterling Award for Outstanding Production of Theatre for Young Audiences, and Ouchi won a Sterling for playwright/director.
Her plays are published by Playwrights Canada Press.
Ouchi's directing credits for Concrete Theatre include Nami Namersson, The Viking Who Liked to Name Things (book and lyrics by Trevor Anderson, music by Bryce Kulak); The Plum Tree (by Mitch Miyagawa); The Incredible Adventures of Mary Jane Mosquito (by Tomson Highway). She has also directed award-winning productions of Are We There Yet? by Jane Heather -- a participatory play and workshop for 14-16 year olds about sexuality health education which has toured to schools throughout the country for seven years; and Naomi's Road, based on Obasan by Joy Kogawa. In 2012 she directed a touring production of Smokescreen by David S. Craig.
In 2001 she won the Sterling Award for Outstanding Fringe Director for directing Slowly, An Exchange Is Taking Place. In 2007, she directed The Cloister by Twilla MacLeod at Summerworks in Toronto, a look at the life of Hildegard von Bingen who combined feminism, mysticism and music in 12th-century Germany.
Mieko Ouchi was Playwright-in-Residence at Workshop West in 2002-03, and past-president of FAVA, the Alberta Film and Video Arts Society. In January 2009 she was the inaugural Faith Broome Playwright-in-Residence for four months at the University of Oklahoma. In 2012, she was named Senior Playwright in Residence at the Banff Centre for the Arts. In November, 2020, she was appointed Associate Artistic Director, in charge of new work, commissions, and artist development at the Citadel Theatre.
She has acted at the Citadel Theatre, Workshop West Theatre, Concrete Theatre, Alberta Theatre Projects, Lunchbox Theatre, Persephone Theatre, Prairie Theatre Exchange, Globe Theatre, Tarragon Theatre, and National Arts Centre. In the summer of 2010, she worked with Daniel MacIvor on his new play, Arigato, Tokyo at the Banff Centre for the Arts.
Television credits include: a series regular role in The Guard (Global). She also played the lead role and assisted in the research for Anne Wheeler's film, The War Between Us, on the Japanese internment in Canada.
As a filmmaker, Mieko Ouchi has produced award-winning works such as Shepherd's Pie and Sushi, By This Parting, Samurai Swing, Paper Cut and Minor Keys, which have played in 30 international festivals, and aired on the CBC and Bravo.
In 2003, she received the Queen's Golden Jubilee Medal for her contribution to the arts community in Edmonton.
Profile by Anne Nothof, Athabasca University
Last updated 2020-12-19