Cardinal, Lorne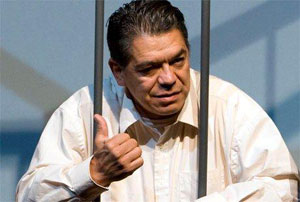 Lorne Cardinal in Thunderstick
Photo by Greg Pender, Saskatoon Star-Phoenix
Cree actor and director, born in Sucker Creek First Nation on the shore of Lesser Slave Lake in Alberta. He was introduced to acting while attending Cariboo College (now Thompson Rivers University) in Kamloops British Columbia in 1987-88, and graduated with a Bachelor in Fine Arts from the University of Alberta in 1993, the first Indigenous student in the program. He now lives in Squamish British Columbia.
His many television credits include Lonesome Dove (1992); Jake and the Kid (1995-97); Wapos Bay (1997); Big Bear (1998); Blackfly (2000); North of 60; and the role of Sergeant Quinton in Corner Gas (2004-09). He was also a series regular on the Aboriginal Peoples Television Network series renegadepress.com (2004-08).
His film credits include North of 60: Distant Drumming (2005), and Insomnia (2002).
His first love, however, is live theatre. In 1990, he performed the role of Jamie Paul in The Ecstasy of Rita Joe by George Ryga (Walterdale Theatre). In her review of the play, Liz Nicholls praised Cardinal's performance: he crackled "with the sheer fury of his defiance and self-mockery." (Edmonton Journal 8 March 1990, C3).
Cardinal has acted in 60 Below, which earned a Dora Mavor Moore nomination for Best Production; Royal Hunt of the Sun by Peter Shaffer (Citadel Theatre); The Art Show ( Native Earth Performing Arts); Dry Lips Oughta Move to Kapuskasing by Tomson Highway (Red Roots Theatre); The Baby Blues by Drew Hayden Taylor (Native Earth 1997); Only Drunks and Children Tell the Truth by Taylor; True West by Sam Shepard; High Life by Lee MacDougall (Theatre Network, 1999); Death of a Chief (Native Earth Performing Arts, dir.Yvette Nolan); Thunderstick by Kenneth T. Williams (Theatre Network/Persephone Theatre 2010, dir. Bradley Moss and Del Surjik); King Lear (National Arts Centre, 2012, dir, Peter Hinton); Where the Blood Mixes by Kevin Loring (Theatre Aquarius, Theatre Network, Western Canada Theatre Company, dir. Bradley Moss, 2013); For the Pleasure of Seeing Her Again by Michel Tremblay (dir. Glynis Leyshon) at the Magnetic North Theatre Festival in Ottawa. In 2019, he returned to Shakespeare with a performance of Prospero in The Tempest at the Citadel Theatre, with a mixed cast of hearing and deaf actors.
He has directed the new works of First Nations playwrights such as Time Stands Still and Thunderstick. He also helped create and direct the dinner theatre series The Journey for Kanata Native Dance Theatre. For television he has directed episodes of renegadepress.com.
Of his work in theatre, he says that he wants to bring more plays about First Nations to First Nations audiences, and to inspire First Nations youth to take up a career in the arts. He believes that "The arts reflect society and sometimes [the arts] become the hammer with which to shape it" (See Magazine, 14 Jan 2010: 21).
In 2020, he was awarded the August Schellenberg Award for outstanding work as a performer.
Profile by Anne Nothof, Athabasca University
Last updated 2020-10-22