Crawford, Mark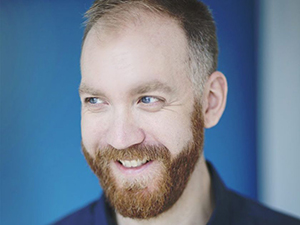 Mark Crawford. Photo credit: Liz Beddall, The Sudbury Star.
Actor, playwright, currently based in Stratford Ontario. Mark Crawford is the son of beef cattle farmers and grew up in Glencoe, a small town in south-western Ontario. He graduated from Glencoe District secondary school, and studied theatre at the University of Toronto and Sheridan College.
He first experienced theatre as a boy at Huron Country Playhouse (Drayton Entertainment Company), where his plays are now being produced; at the Grand Theatre, London; and the Stratford Festival.
Crawford worked as an actor for ten years while writing scripts before his first production Stag and Doe at the Blyth Festival in 2014 (dir. Miles Potter). It exhibits the many debacles of a small-town wedding. Bed and Breakfast, a comedy in which an urban gay couple set up a B&B in a small town and encounter a wide range of local characters and responses, opened at the Thousand Islands Playhouse in 2015 (dir. Ashlie Corcoran). The Birds and the Bees premiered at Blyth in 2016 (dir. Ann Hodges), and has enjoyed ten subsequent professional productions as of 2018. It features a beekeeper whose bees are dying, and her daughter, a young woman who artificially inseminates turkeys and has left her ineffectual husband. The local farmer suggests ways in which both can improve their love lives by attending a local turkey supper and dance. Boys, Girls and Other Mythological Creatures (Carousel Players 2017) celebrates difference in young people with the help of a basement monster. The Great Canadian Curling Club, in which immigrants to a small town are introduced to curling by a racist Zamboni operator, was held over at Blyth when it premiered there in 2018; it has subsequently enjoyed productions across Canada.
Chase the Ace is a one-man show written during the Covid-19 pandemic that closed theatres across Canada and the world. It depicts a big-city DJ who is forced to take a job managing a small-town station during a pandemic, and finds that he provides invaluable connections in the community. It premiered in July 2021 at the Lighthouse Festival Theatre in Port Dover, then by the Festival Players in Prince Edward County at the end of August, and the Blyth Festival in September (dir. Miles Potter, and acted by Mark Crawford).
The Gig, a comedy commissioned by Alberta Theatre Projects, opened in March, 2023 at Theatre Aquarius (dir. Morris Panych). Three drag queens are hired as entertainment for a Conservative Party of Canada fundraiser by a left-leaning candidate attempting to bring opposites together, with hilarious consequences.
Mark Crawford has performed on stages across the country, including four touring school productions for Carousel Players, at Canadian Stage, Manitoba Theatre Centre, Theatre New Brunswick, Belfry Theatre, Theatre Aquarius, Blyth Festival (Vimy), Young People's Theatre, Studio 180 Theatre, and Groundling Theatre Company. From 2017 to 2019, he played multiple roles in Bed and Breakfast with his real-life partner, Paul Dunn at the Blyth Festival, followed by the Centaur Theatre, Great Canadian Theatre Company, Arts Club Theatre, and Globe Theatre. In 2018, he played the itinerant Scottish Dr. Miles MacGreggor in Prairie Nurse at Factory Theatre.
Mark Crawford's plays are published by Scirocco Drama.
Profile by Anne Nothof, Athabasca University
Last updated 2023-03-07