Gass, Ken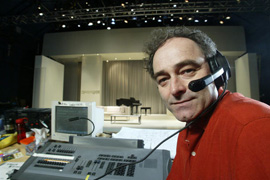 Ken Gass
Playwright/director born in Abbotsford, British Columbia, September 10, 1945. He studied theatre and creative writing at the University of British Columbia, graduating with a BA in 1967, and taking courses towards an MA in directing before moving to Toronto in 1968 to teach high school English. He first directed at Theatre Passe Muraille and with John Herbert's Garrett Theatre.
Almost from his professional debut, Ken Gass was a proponent of alternative and experimental theatre, helping to organize Toronto's Festival of Underground Theatre. In 1970 he founded the Factory Theatre Lab, with a mandate to pursue unconventional programming, and to develop new Canadian works. He remained its artistic director until 1979. Under his leadership the company was responsible for launching the careers of David Freeman, Larry Fineberg, Michael Hollingsworth and George F. Walker among many others.
In 1985 he founded the Canadian Rep Theatre. The company's goals were not only to premiere new works but also to revisit works from Canada's dramatic literary past.
His writing has a similar objective to his directing: waking the audience out of complacency and propelling theatre away from the proscenium. Perhaps his most famous work (some would say infamous) is Winter Offensive (premiered at the Factory in 1977 and directed by the author). This work about social amorality in Nazi Germany not only wakened the spectators with its sex and violence, it caused a strong negative critical reaction, and there were calls to ban the production. His other plays include: Hurray for Johnny Canuck, based on the World War II comic book series by Leo Bachle (Factory, 1974); The Boy Bishop (Factory, 1977, directed by the author); Claudius (Canadian Rep, 1993, directed by the author) and Amazon Dream (Canadian Rep, 1994, directed by the author). He also writes for television and radio.
In 1997, as the Factory Theatre was teetering on the brink of bankruptcy, he once again assumed the position of Artistic Director. During this second tenure, he directed the Factory Theatre productions of Ian Ross's fareWel, John Mighton's A Short History of Night (both in 1999), Florence Gibson's Belle (February, 2000) and the National Theatre School of Canada productions of Walker's Better Living and Escape From Happiness (February, 2002). In 2011, he directed Tomson Highway's The Rez Sisters with a multi-cultural cast: half the cast were Indigenous, and the rest are Black, Asian, and white -- in keeping with his intention to better represent the cultural diversity in Toronto.
On June 21, 2012, he was fired by the Factory's Board of Directors over a difference of opinion about the extent and nature of the needed renovations to the theatre, sparking a strong protest from Toronto's theatre community. In his letter to his supportive public (September 20), he expressed his confidence that "the record of the past 15 seasons of all-Canadian plays at the Factory will speak for itself--the strong diversity and inter-generational mix of our programming, the many premieres and the constant stream of new voices."
In November 2012, he announced his intention to revive the Canadian Rep Theatre, a company he established in the 1980s. Its mandate is to re-vision plays from the Canadian theatre canon, and to produce new works. The company's first season featured the English-language premiere of Pacamambo by Wajdi Mouawad January 2014 (dir. Gass); the Canadian premiere of Dead Metaphor by George F. Walker in May 2014 (a co-production with David Mirvish at the Panasonic Theatre, dir. Walker); and the world premiere of Watching Glory Die by Judith Thompson also in May 2014, at the Berkeley St. Theatre Upstairs (dir. Gass). In 2018, Gass directed Helen's Necklace by Carole Fréchette, with three diverse actors playing Helen.
In February 2015, Gass directed a production of How Do I Love Thee? by Florence Gibson MacDonald at Berkeley Street Theatre Upstairs; and Armstrong's War by Colleen Murphy.
In 2000, he was awarded the Herbert Whittaker Award for Distinguished Contribution to Canadian Theatre by the Canadian Theatre Critics Association.
Profile by Gaetan Charlebois and Anne Nothof. Additional information provided by Ed Gass-Donnelly and J.Kelly Nestruck (Globe and Mail R1 (9 Nov 2011).
Last updated 2019-10-18