Goyette, Claude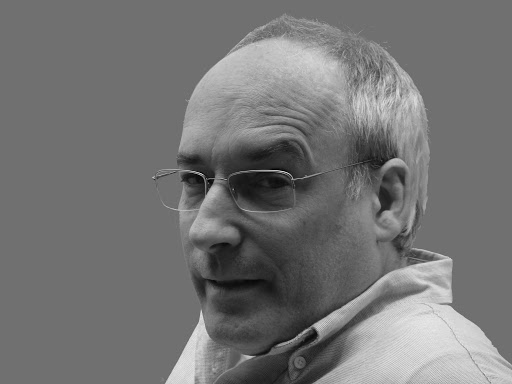 Claude Goyette
Quebec-based set designer, linked most often with Théâtre Ubu.
Claude Goyette graduated from the professional theatre program at CEGEP Lionel-Groulx in 1975, and since he has designed over 150 sets for theatre, opera, dance, film and TV. He has also designed for Cirque du Soleil, and created museum installations.
Goyette has taught at several theatre schools, notably his alma mater.
Among his designs are the Michel Tremblay/André Gagnon opera Nelligan (1990); L'École des femmes/School for Wives (Théâtre du Nouveau Monde/TNM, 1990); La Locandiera (TNM, 1993); True West (Nouvelle Compagnie Théâtrale, 1994); the double bill of La Dernière bande/Krapp's Last Tape & Pas moi/Not I (Théâtre de Quat'Sous, 1994); Les Maîtres anciens (Théâtre Ubu, 1995); Albertine, en cinq temps (Espace Go, 1995); the double bill of La Cantatrice Chauve/The Bald Soprano & La Leçon/The Lesson (Théâtre du Rideau Vert, 1996); Pol Pelletier's Joie, Océan and Or; the Espace Go production of Koltès Quai Ouest (1997, directed by Alice Ronfard); the TNM production of Le Barbier de Seville (1999, directed by René Richard Cyr); the Théâtre d'Aujourd'hui premiere of Larry Tremblay's Les mains bleues (1999); and the Nouvelle Compagnie Théâtrale / Théâtre Denise-Pelletier production of Corneille's Le Menteur (1999) (these last two directed by Martin Faucher).
More recently, he designed sets for Le chemin des passes dangereuses by Michel Marc Bouchard for Compagnie Jean-Duceppe (2018), and 21 manches cubes (Robinson et Friday) for le Théâtre Double Signe (2015).
Claude Goyette is one of the most exciting designers in the country; his command of a space coupled with his complicity with the lighting designer is, in some cases, unbeatable. The visuals for both Nelligan and Albertine, for instance, were breathtaking and, more importantly, germane to the texts. He has the uncanny ability to recognize and then illuminate the intentions of both director and playwright.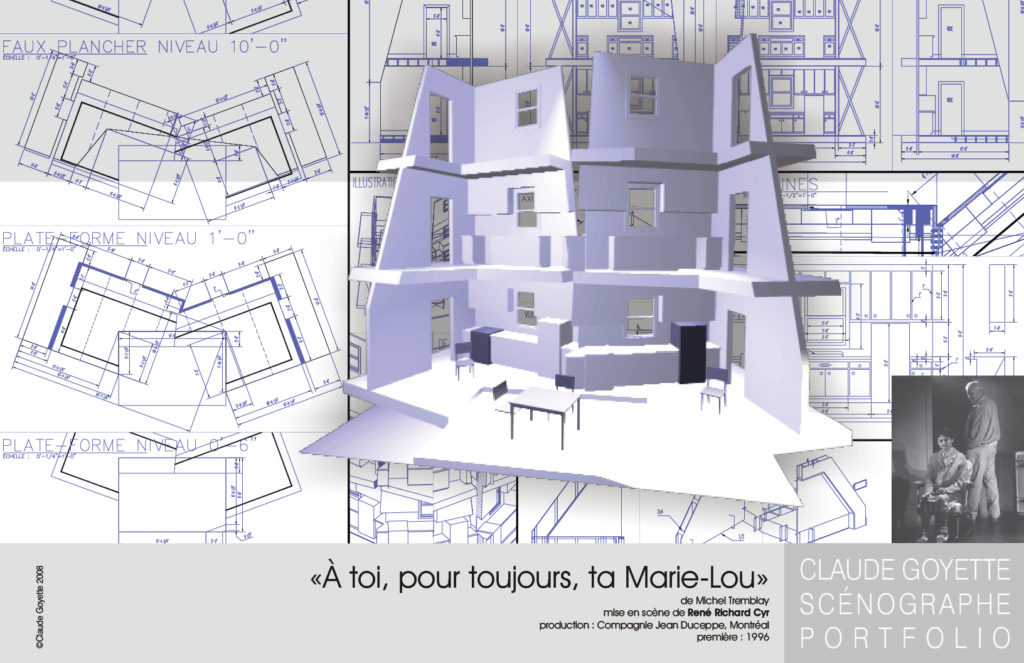 A toi pour toujours, ta Marie-Lou by Michel Tremblay.
From website: www.rouge2.com/fr/portfolio/claude-goyette
In 1990, he received the award for best design from the Quebec critics' circle. In November 2011, le Conseil des arts et des lettres du Québec (CALQ) awarded him a prestigious bourse de carrière.
Website: www.claudegoyettesceno
Profile by Gaetan Charlebois. Additional information provided by Alvina Ruprecht.
Last updated 2021-01-11