Greenblatt, Richard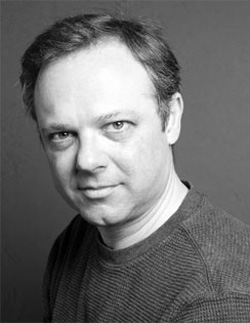 Richard Greenblatt
Actor/writer/director/musician born in Montreal, Quebec, in 1953. He studied piano for ten years at McGill Conservatory of Music and theatre at Dawson College before training at the Royal Academy of Dramatic Art in London, England. He returned to Canada in 1975 and since then has acted, directed and written for theatre, and acted in television and films.
He has directed over 130 productions in theatres across Canada, most of which have been original or Canadian works, including plays by George F. Walker, Judith Thompson, Jason Sherman, and Michael Healey.
Among the theatres where he has performed or directed are Centaur Theatre (Riddle of the World); Saidye Bronfman Centre (Spinoza); Tarragon Theatre (his own The Theory of Relatives, True West, Gravity Calling, Paradise Express); Winnipeg Jewish Theatre (The League of Nathans); Vancouver Playhouse (Nothing Sacred), Canadian Stage (Detaining Mr. Trotsky), and Young People's Theatre (Pinocchio).
He became hugely successful, however, when he joined up with Ted Dykstra in 1994 to create the brilliant 2 Pianos, 4 Hands, a chamber piece about learning and living with the piano. Since the premiere, the two have toured to the United States, Great Britain, Japan, and throughout Canada, performing the work 900 times in 150 cities. He and Dykstra won both the Dora Mavor Moore Award and the Chalmers Award for the work.
Richard Greenblatt is a natural actor; his performances are marked by a complete lack of fussiness. In 2 Pianos..., however, he crackled with energy, and was a very even partner for the usually more flamboyant Dykstra.
Greenblatt also appeared in the Suburban Motel series at Factory Theatre and in another play he co-wrote (with Diane Flacks) Sibs (Tarragon, March, 2000). He has also performed in French, in La Passagère (March, 2001).
More recently, Greenblatt co-directed and starred in Yichud (Seclusion) at Theatre Passe Muraille/Magnetic North Theatre Festival, appeared in the four parts of The Mill for Theatrefront, and toured to Galway, Ireland with MacKenzieRo's production of Enda Walsh's Bedbound. He has also played leading roles in summer productions at 4th Line Theatre, and in SummerWorks (Late Company, Best Production Award).
Greenblatt was worked extensively with theatre for young audiences, in particular as a director for Roseneath Theatre, including touring productions of Wrecked by Chris Craddock (2006, 2008, 2012).
He has won seven Dora Mavor Moore Awards and two Chalmers Awards.
As a mentor and teacher, he has taught at most of the theatre training institutes in Canada, including Ryerson University, George Brown College, National Theatre School of Canada, and the University of Alberta.
His memoir Two of the Best in the Neighbourhood, an Anecdotal History of 2 Pianos 4 Hands was published by J Gordon Shillingford in 2022.
He lives in Toronto with his partner, Tanya Greve and their daughter.
Profile by Gaetan Charlebois. Additional information provided by David Baile, Pierre Karch and Anne Nothof.
Last updated 2022-10-11