Marleau, Louise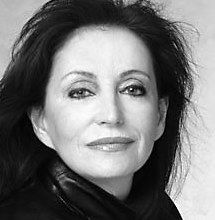 Louise Marleau
Quebec-based actor born August 26, 1944, with a five-decade career in theatre, film, and television. Louise Marleau began acting at the age of fifteen, performing with her father, Robert Gadouas at La Poudrière on l'île Sainte-Hélène. In 1984, she performed with her brother, Daniel Gadouas.
At the request of director, Jean Gascon, she played Juliet in the Stratford Festival production of Romeo and Juliet in 1968, learning English in eight months under the tutelage of Maurice Podbrey at Centaur Theatre. Feeling circumscribed by ingenue roles, she undertook the role of Catharine in Soudain l'été dernier, a French translation of Suddenly Last Summer by Tennessee Williams, at the National Arts Centre, and since then has performed a wide range of strong dramatic roles.
Notably, Marleau has performed at Théâtre du Rideau Vert:L'Alcade de Zalaméa (1963), Le printemps de la Saint-Martin (1973), Noces de Sang/Blood Wedding (1984). She appeared in Marcel Dubé's Les Beaux dimanches, as well as in the stage and television premieres of Dubé's Au retour des oies blanches, which was written for her.
She performed with Albert Millaire in the two-hander Célimene et le cardinal at Café de la Place des Arts, on tour and on television. In 1998, she conquered the Montreal public, again, with a tour de force as a libidinous artist in Éric-Emmanuel Schmitt's Le Libertin for Juste Pour Rire. She also enjoyed a long run in Les Leçons de Maria Callas, which toured across Quebec, and was remounted at Rideau Vert under the direction of Denise Filiatrault.
In 2013, she undertook the challenging title role of a mother in love with her son in Jocaste reine by Nancy Huston at Théâtre du Nouveau Monde. During the summer of 2020, her appearance at Théâtre du Nouveau Monde in La vallée des avalées tirée (based on the novel by Réjean Ducharme), was cancelled by the Covid-19 pandemic which closed theatres across Canada.
Marleau has appeared in over twenty films, and won the 1985 Genie Award for Best Performance by an Actress in a Leading Role for her role in Femme de l'hôtel, and won the 1979 Montreal World Film Festival for her role in L'arrache-coeur.
She believes that acting is instinctive and intuitive; some roles, like that of Maria Callas, she carries around within her for life.
From 1991 to 2006, she was married to singer, Claude Dubois. She has a daughter by her first husband, director Jean Salvy.
Viewings: Antigone, Radio-Canada, 1962, dir. Louis-George Carrier, a production of the Anouilh play staged for television and featuring Louise Marleau.
Profile by Gaetan Charlebois and Anne Nothof
Last updated 2021-04-15