MacLeod, Joan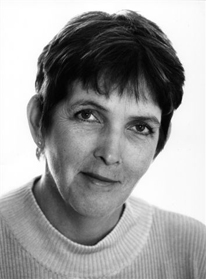 Joan MacLeod
Playwright Joan MacLeod was born in 1954 in Vancouver, British Columbia, and studied creative writing at the University of Victoria (BA 1978) and the University of British Columbia (MFA 1981). She was encouraged to write plays while attending a poetry workshop at the Banff Centre for the Arts in 1984. Her poetic, lyrical plays are characterized by evocative imagery and layered themes that consider the complexities of personal and political relationships. MacLeod sees all of her plays as political, exploring the often unacknowledged tensions and conflicts in an apparently peaceful Canadian society. However, she also believes in the power of the imagination to transform reality and enable hope. Despite natural and political cataclysms, individuals can recreate their lives.
MacLeod joined the Playwrights Unit at Toronto's Tarragon Theatre in 1985, and remained as playwright-in-residence there for seven years. Her first play, entitled Jewel, is a monologue spoken by a young woman to her dead husband, who drowned with 83 other men when an oil rig, the Ocean Ranger, sank off the coast of Newfoundland during a violent storm in 1982. It premiered at the Tarragon in 1987 (dir. Andy McKim), and was subsequently produced for radio in English, French, German, Danish, and Swedish.
Her next three plays, Toronto Mississippi (1987), Amigo's Blue Guitar (1990), and The Hope Slide (1992) also premiered at the Tarragon. The scenario for Toronto Mississippi originated in MacLeod's experience as a social worker with the mentally disabled in the late 1970s. It explores the complex dynamics between a mother and her mildly autistic daughter, and their responses to an absentee husband/father who lives out his fantasies as an Elvis impersonator, and who enables his daughter to imagine a world beyond her mental limitations.
The motivation behind Amigo's Blue Guitar was the "appalling" refugee policies in Canada, which MacLeod personally encountered while involved with refugee sponsorship programs in Toronto. In this play, she also addresses the question of why refugees sometimes lie out of desperation and necessity. The play is set on a Gulf Island, a place of refuge and retreat, but where the wreckage of other places and events washes up on the beaches. The family of an American draft dodger has sponsored a Salvadoran refugee, but their response to his painful history is compromised by selfish personal motives, which finally the refugee, Elias, violently resists. For the Tarragon premiere, the director was Dennis Foon, and Elias was played by Guillermo Verdecchia, Martha by Patricia Hamilton, and Owen by David Fox.
The Hope Slide is a complex monologue which tracks the inner journey of an actress, recollecting her turbulent girlhood in terms of her preoccupation with the Doukhobors who settled in the Canadian West. The Doukhobors' struggle for the freedom to live as they choose becomes a metaphor for her own aspirations and social defiance. Irene is touring a play through the B.C. interior, in which she plays the roles of three Doukhobors who died violently: Mary Kalmakoff was buried under the Hope Slide in 1965; Harry Kootnikoff was blown up by one of his own bombs, and Paul Podmorrow died while on a hunger strike. Playing their deaths is also a way of coming to terms with the death of a friend from AIDS. The Workshop West production of The Hope Slide, directed by Gerry Potter, was adapted for CKUA radio on "Theatre of the Air" in 1993.
In 1992 MacLeod returned to Vancouver, and taught creative writing at the University of British Columbia, Kwantlen College, and the University of Victoria. Since 2004, she has been an Associate Professor in the Department of Writing at the University of Victoria, and lives in Victoria with her husband and daughter.
Her "millennium play," 2000, was commissioned and first produced by the Great Canadian Theatre Company in Ottawa in 1996. It is set on the "margins" of Vancouver, where the city meets the mountains – a precarious space between the "civilized" and the "savage," and portrays a technologized consumer culture that cannot entirely displace the elemental forces of nature. In 2000 she demonstrates the limitations of optimism and hope in a world characterized by the unpredictable and the unknowable, but she also enacts those values which keep intact and strengthen human interaction and the commonalities that constitute the lineaments of a "civilized" society. As in most of her plays, domestic space is both fraught and comforting: despite its conflicts, it shapes the values which guide individual actions.
The Shape of a Girl (2001) was commissioned by Green Thumb Theatre for Young People, and first produced at Alberta Theatre Projects, as part of its playRites Festival, with Jennie Young as Braidie, and directed by Patrick McDonald. An adolescent girl discovers a frightening correspondence between the senseless murder of a teenager by her schoolmates, and her own social behaviour. Her monologue is grounded in a historically specific Canadian tragedy – the 1997 killing of Victoria schoolgirl, Reena Virk by a gang of teenagers, most of whom were girls. Though she has not actually participated in this murder, Braidie is haunted by it, because it replays her own complicity in her friend's tormenting of a "different" girl in their class – the identification of an individual as "other," and a systematic, cruel predation which is psychologically destructive. Braidie's imagined audience is her older brother, whom she has cast as a sympathetic mentor, and she finally experiences a sense of new possibilities and hope. The Shape of a Girl has been produced more than thirty times, and translated into eight languages.
Homechild premiered at the Canadian Stage in 2006 (dir. Martha Henry), with Eric Peterson and Martha Henry. It played at the Belfry Theatre in September 2007, directed by Roy Surette, and was remounted in shortened version by the Arts Club Theatre on the Stanley Industrial Alliance Stage in 2009 (dir. Jane Heyman). The play focuses on the life of a home child, Alistair, one of approximately 100,000 children sent from England and Scotland to Canada between 1860 and 1930 to work in factories and farms. After leaving Edinburgh 70 years ago, he tenaciously and obsessively searched for his sister Katie, from whom he was separated. Their reunion is finally effected by his daughter, who in the process learns about her own family history. Homechild is a moving story of family secrets, lineage and the endurance of love.
In her one-woman show, Another Home Invasion (ATP playRites Festival 2009), an 80-year old woman (Jean) takes care of her ailing husband while trying to maintain some control over her life. But an unwelcome visitor turns everything upside down and she is forced to face the reality that she is no longer sheltered from the volatile world outside.
The Valley (playRites 2013, dir. Linda Moore) tracks the circumstances surrounding the violent arrest of a teenage boy on the SkyTrain platform in Vancouver. The play focuses on the families of the police officer, a proud new father contending with a depressed wife; and of the schizophrenic teenager and his over-protective mother. In his review (The Globe and Mail 26 March 13: L6), J. Kelly Nestruck applauds MacLeod's subtley in her portrayal of mental illness: "she takes a close, clear-eyed look at our society - one where individual rights and freedoms are constantly clashing with the desire to protect, at home and on the streets."
Gracie premiered at Belfry Theatre in January 2017 in a co-production with Alberta Theatre Projects (dir. Vanessa Porteous, with Lili Beaudoin as Gracie). In this one-woman show, Gracie is a young girl growing up in Bountiful, B.C., a polygamous community of the Fundamentalist Church of Jesus Christ of Latter Day Saints. Although she has supportive friends and a loving extended family, she gradually begins to realize the limitations of her prescribed existence. As a teenager, she resists marriage to a much older man who is already married to her sister, and is finally persuaded to leave the community by her brother, who has found his own way in the outside world. Her agonizing decision to abandon her mother and to remake herself in a foreign world makes for compelling theatre. In the program guide, MacLeod explains that the play "began the way all my plays do: by creating one voice and trying to figure out why that voice wanted to be heard." Marsha Lederman points out in her review that "MacLeod's play allows us to open ourselves to the uncomfortable complexities around abhorrent circumstances; to contemplate the actual three-dimensional lives of the girls and women we get only brief glimpses of in TV footage or through court testimony" (Globe & Mail 3 Feb 2017).
MacLeod's plays have been produced across Canada, and in England, the United States, Australia, and Europe. They have won numerous awards, including the 1988 Prix Italia for the CBC production of Jewel, the Governor General's Award for Amigo's Blue Guitar in 1991, the Chalmers Award for The Hope Slide, and the Jessie Richardson Award and Betty Mitchell Award for The Shape of a Girl in 2001. In 2011, she was awarded the prestigious Siminovitch Prize in Theatre. The jury cited her "unique voice, her masterful storytelling, and the impact that her work has had among audiences in Canada and beyond."
Website: www.joanmacleod.com
Profile by Anne Nothof, Athabasca University
Last updated 2021-09-21