Page, Jeff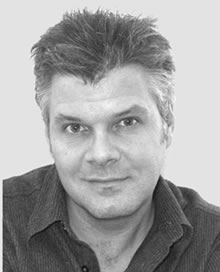 Jeff Page
Actor, writer, director, and instructor, based in Edmonton, Alberta. He was born in Albuquerque, New Mexico in 1965, and graduated from the University of New Mexico in 1988. He moved to Canada in 1992, following a tour of the Canadian Fringe circuit with Seattle's One World Theatre and Russia's Moscow Theatre Igroky.
Since 1992 Page has worked as a theatre professional in Canada, specializing in Canadian plays and new works. He has directed or acted in new plays by Stewart Lemoine (The Book of Tobit and The Visitation of the Paragon); Eugene Stickland (Excavations); Marty Chan (Maggie's Last Dance); Cathleen Rootsaert (After You); Katherine Schlemmer (Fat Girl Sings the Blues and Romantic Accordion; Collin Doyle and James Hamilton (Nighthawk Rules); Conni Massing (Homesick); Ava Jane Markus (MiLF); Wes Borg and Darrin Hagen (PileDriver!); and Ron Chambers (Dirt). Jeff Page is the co-author and director, with Wes Borg, of two innovative solo performances, Love Letters from the Unabomber and The Granite Man and the Butterfly With Collin Doyle, he is co-author and director of The Gift (2010).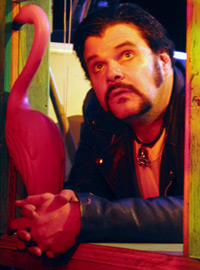 Jeff Page as Cuirette in Hosanna
Production photos by Ian Jackson
Other Canadian roles in Jeff Page's repertoire include Cuirette in Hosanna, and the Narrator in For the Pleasure of Seeing Her Again/Encore une fois, si vous le permettez by Michel Tremblay (Theatre Network); Gordon in Some Assembly Required by Eugene Stickland (Northern Light Theatre); Rex in Stickland's A Guide to Mourning (Theatre Network and Globe Theatre); Holloman in Lawrence and Holloman by Morris Panych (Theatre Network); Michael in Featuring Loretta by George F. Walker at the Edmonton International Fringe Festival and the inaugural Magnetic North Theatre Festival in Ottawa; and Mike Sokolowski in Strike! by Danny Schur and Rick Chafe (Persephone Theatre). He also played the part of Adam in a powerful performance of Someone Who'll Watch Over Me (dir. John Kirkpatrick) by Irish playwright Frank McGuinness, which was a Fringe holdover.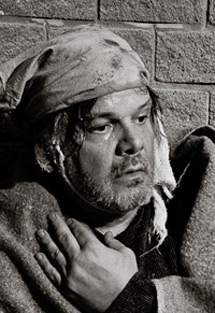 Jeff Page as The Prisoner in Secrets of Immortality
He has acted for several seasons with the Free Will Players in the River City Shakespeare Festival in Edmonton: Lord Montague in Romeo and Juliet (1994); Antonio in The Tempest (2002); Chico Marx as Pistol in The Merry Wives of Windsor (2002 and 2004); Sir Toby Belch in Twelfth Night and Solano/Old Gobbo in The Merchant of Venice (2005). In 2009, he directed The Comedy of Errors from the Company.
In 2011, for Serca Festival of Irish Theatre in Edmonton, he devised and played in Secrets of Immortality, a monologue based on De Profundis by Oscar Wilde.
In 2009, Jeff Page graduated with Master of Fine Arts from the University of Alberta. From 2010 to 2013, he was on the faculty of Red Deer College's new Theatre and Performance program. From 2015, he has been Production Manager, Writer, Director, Editor for NewComer TV, writing, directing, and editing short videos to help newcomers adjust to life in Canada. As of 2018, he is Orientation Coordinator at Catholic Social Services Immigration and Settlement Service in Edmonton.
Last updated 2021-07-16