Kirkpatrick, John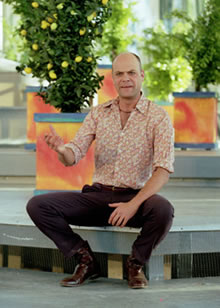 John Kirkpatrick
Actor and director, born in Fort St. John, British Columbia. His first experience with acting was in the St. Albert Children's Theatre at the age of 12. John Kirkpatrick received his theatre training at the University of Alberta Drama Department graduating with a BFA in Acting in 1993.
John Kirkpatrick was the Artistic Director of the Free Will Players from 2003 to 2008, and played Hamlet in the 2006 season of the Free Will Shakespeare Festival, Cassio in 2011, and Kent in 2013, as well as many other roles since joining the company in 1998.
Other acting credits include: Fully Committed (dir. James DeFelice), Measure for Measure, Stones in His Pockets and Jacob Marley in A Christmas Carol for six seasons (Citadel Theatre); Counselor-at-Law (Theatre Calgary); The Odd Couple (Mayfield Dinner Theatre); The Tempest and The Merry Wives of Windsor (The River City Shakespeare Festival); Eros and The Itchy Ant by Stewart Lemoine (Teatro La Quindicina); The Blue Light by Mieko Ouchi (Workshop West Theatre); The Leisure Society by François Archambault (Theatre Network); The Age of Arousal by Linda Griffiths, and The Knowing Bird by Ron Chambers (Alberta Theatre Projects).
He has acted in theatres across Canada, including Vancouver Playhouse, Globe Theatre, Manitoba Theatre Centre, Canadian Stage, National Arts Centre.
In 2013, he joined the acting company at the Stratford Festival, where he has played in supporting roles in Macbeth, As You Like It and The Hypochondriac (2016). Other roles at Stratford include Fortinbras in Hamlet and Descartes in Christina, The Girl King by Michel Marc Bouchard (2014, dir Vanessa Porteous).
Directing credits include: On The Razzle, (University of Alberta); Someone Who'll Watch Over Me (Edmonton Fringe Festival); Featuring Loretta by George F. Walker (Fringe Festival and Magnetic North Theatre Festival); Near Diamond (Cock and Bull Productions); and Flight! (Feral Productions).
Kirkpatrick was honoured with a 2003 Elizabeth Sterling Haynes Award for his directing of Featuring Loretta, and a Sterling Award for outstanding performance in Measure for Measure.
His lanky frame and droll, ironic articulation are deployed most effectively in comedies, but his range of characterization is considerable.
He currently resides in Stratford, Ontario.
Profile by Anne Nothof, Athabasca University.
Last updated 2018-01-23