Thomson, RH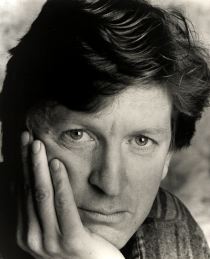 RH Thomson
Born in 1947, Robert Holmes Thomson studied at the University of Toronto, Ontario, the National Theatre School of Canada and in England. He is one of the Canada's most accomplished film, television and stage actors.
He has played lead roles in many of the country's major venues including Canadian Stage (Oleanna, Inexpressible Island); Theatre Passe Muraille (The Little Years); Manitoba Theatre Centre (Death and the Maiden); Tarragon Theatre (Daylight Saving); Toronto Free Theatre (Hamlet); Toronto Workshop Productions/TWP (The Jail Diary of Albie Sachs); Stratford Festival (Julius Caesar, Merry Wives of Windsor, Mary Stuart); Theatre New Brunswick (Waiting for Godot); Bastion Theatre (Comedians); and National Arts Centre (David Young's Clout, January, 2001).
More recently, he provided a complex and compelling portrait of the father and physician in Sharon Pollock's Doc at Soulpepper Theatre Company (2010); a frustrated historian with dementia in Francois Archambault's You Will Remember Me at Tarragon Theatre in a co-production with Studio 180 Theatre (March 2016); and a dying Marshal McLuhan reliving his fame and frustrations through flashbacks in The Message by Jason Sherman (dir. Richard Rose, Tarragon 2018).
RH Thomson has also directed at Neptune Theatre, Theatre Plus, Bard on the Beach, Ship's Company Theatre (David French's Salt-Water Moon), Theatre in the Park, and Theatre Calgary (The Crucible, October 2015). His own play, The Lost Boys, (a solo in which he performed) was presented at Great Canadian Theatre Company in March, 2000 and at Canadian Stage in February, 2002. For the 1991-92 season he was Artistic Director of Harbourfront's World Stage Festival in Toronto.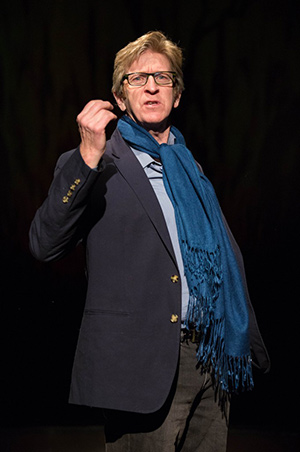 RH Thomson in You Will Remember Me, Tarragon Theatre, 2016. Photo by Cylla von Tiedemann.
He has been awarded numerous Canadian film and theatre awards, including a Dora Mavor Moore Award (Hand to Hand, Toronto Free Theatre, 1983, and the 1992 Toronto Drama Bench Award for his outstanding body of work. In 1996 he was honoured by the National Theatre School with the Gascon-Thomas Award in recogntion of his career and activism in the arts. In 1999, he was awarded the Herbert Whittaker Award for Distinguished Contribution to Canadian Theatre by the Canadian Theatre Critics Association. In 2010, he was inducted into the Order of Canada, and in 2015, he received a Governor General's Performing Arts Award.
His performances are marked by an emotional intensity that is absolutely dry, and an obvious intelligence.
Profile by Gaetan Charlebois. Additional information provided by Christopher Hoile and Anne Nothof.
Last updated 2018-12-04