Wilkinson, Gina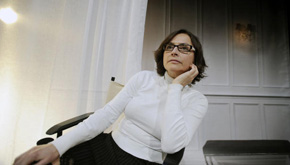 Gina Wilkinson
Actor, playwright, director, born 1960 in Victoria, British Columbia, died December, 2010 in Toronto Ontario of cancer. She graduated from the National Theatre School of Canada in 1982, and began her acting career with the Stratford Festival in 1983. In November 1984, she performed in the premiere of George F. Walker's Criminals in Love at the Factory Theatre. She subsequently appeared in theatres across the country.
For twenty years she worked extensively in film and television, including in the Walker TV series This is Wonderland.
Her play, My Mother's Feet about the incestuous relationship of a mother and her son, premiered at Canadian Stage in 2005 (dir.Micheline Chevrier).
Since 1997, she directed productions of Canadian plays across the country, including: The Drawer Boy by Michael Healey (Grand Theatre, London); Mary's Wedding by Stephen Massicotte (Alberta Theatre Projects 2002); A Guide to Mourning by Eugene Stickland (Globe Theatre 2003); The Eyes of Heaven by Beverley Cooper (Blyth Festival 2007); The Turn of the Screw (Belfy Theatre 2008); Palmer Park by Joanna McClelland Glass (Stratford Festival 2008); a powerful production of Faith Healer by Brian Friel (Soulpepper Theatre Company 2009); and Wide Awake Hearts by Brendan Gall (Tarragon Theatre 2010).
Her talents as a director, however, were particularly noted when she replaced the ailing Neil Munro to direct Born Yesterday (2009) at the Shaw Festival. She also directed Half an Hour at the Shaw in 2010. Her last directing gig was The Seafarer by Conor McPherson (Manitoba Theatre Centre 2010).
She married actor and long-time partner,Tom Rooney just before her death.
Sources: Gayle MacDonald, "Shaw director Gina Wilkinson dead at age 50," Globe and Mail 2010;
"Robert Cushman remembers Gina Wilkinson," National Post 2010.
Profile by Anne Nothof, Athabasca University. Additional information by Cynthia Zimmerman, York University.
Last updated 2016-04-04