Cloran, Daryl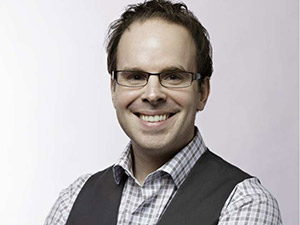 Daryl Cloran
Multi-talented director, Daryl Cloran was born July 30, 1974, and raised in Sarnia Ontario. He graduated from the Drama Department at Queen's University, where he has since taught. He studied new media and film directing at the Canadian Film Centre and the New York Film Academy.
He was the founding Artistic Director of Theatrefront in 1998, a Toronto-based independent theatre company. In 2007 he became AD of Theatre & Company in Kitchener Ontario. For three years, he was assistant director to Des McAnuff at Stratford Festival. In 2010, he moved to Kamloops to assume the position of Artistic Director at Western Canada Theatre Company. In May, 2016, he was appointed Artistic Director of the Citadel Theatre. He is married to actor, Holly Lewis, and has two sons.
For Theatrefront he has directed: Return (The Sarajevo Project) – presented in Bosnia and Canada, nominated for five Dora Awards, published by Playwright's Canada Press; Ubuntu (The Cape Town Project, developed in South Africa in 2005 by a collective of Canadian and South African artists, and subsequently presented in Canada and South Africa, nominated for two Dora Awards; Our Country's Good, nominated for two Dora Awards; I Might Be Edgar Allan Poe, produced at the Grand Theatre, London; Sweet Phoebe, produced at Theatre Aquarius in Hamilton.
Cloran has also directed plays at theatres across the country, including Generous (Tarragon Theatre); The Last Five Years (Canadian Stage, and Manitoba Theatre Centre) – nominated for four Dora Awards; Afterplay (Shaw Festival); This is How it Goes (Neptune Theatre); Helen's Necklace (Grand Theatre, London); The Play About The Baby (Soulpepper Theatre Company); and Liberation Days (Theatre Calgary 2014).
For Bard on the Beach, he directed a musical interpretations of Love's Labour's Lost (2016), and a very popular production of As You Like It (2018), wittily incorporating twenty-five Beatles songs in lieu of half the text, and set in Vancouver and the Okanagan in the 1960s.
He opened the 2017/18 Citadel season with an entertaining production of Shakespeare in Love on the Shoctor stage, skilfully directing a large cast through the convoluted scenarios of a complex play. He then remounted Ubuntu on the Maclab stage in a co-production with Prairie Theatre Exchange, a powerful, physical enactment of connections between continents and individuals. In 2019, he commissioned and co-directed two linked political farces by Kat Sandler: The Party and The Candidate, which played simultaneously on two stages in the Citadel complex, and necessitating very quick exits and entrances.
Cloran is "really keen on working in non-traditional ways in new playwriting, developing things collaboratively, looking at unique styles of new plays" (Edmonton Journal 30 May 16).
He has received the Canada Council's John Hirsch Prize for Outstanding Emerging Theatre Director and the Toronto Theatre Emerging Artist Award.
His first feature film was Late Fragment (produced by the National Film Board and Canadian Film Centre), which he co-wrote and directed.
Profile by Anne Nothof, Athabasca University
Last updated 2023-02-28