Cooper, Beverley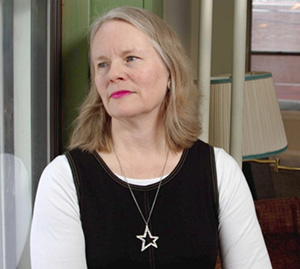 Beverley Cooper
Playwright, screenwriter, and actor Beverley Cooper has written for theatre, TV and film. She trained as an actor at Studio 58 in Vancouver, and has performed in TV, film and theatres across the country. In 1988, she appeared in the Nightwood Theatre premiere of Goodnight Desdemona (Good Morning Juliet) by Ann-Marie MacDonald.
She is a graduate of the Creative Writing MFA program at the University of Guelph, where she worked with instructors Judith Thompson and David S. Young.
Her writing for theatre includes Thin Ice (co-written with Banuta Rubess), which won a Dora Mavor Moore Award and a Chalmers Award (published by Playwrights Canada Press); Clue in the Fast Lane (co-written with Ann-Marie MacDonald); The Eyes of Heaven (published by Scirocco Drama); and The Woman in White (adapted from the novel by Wilkie Collins) which was produced at Theatre Aquarius in Hamilton in 2008.
Her play Innocence Lost: A Play about Steven Truscott, sold out at the Blyth Festival in both 2008 and 2009 seasons, and was produced at the National Arts Centre in 2013 (dir. Roy Surette) in a co-production with Centaur Theatre. Innocence Lost is published by Scirocco Drama; it was a finalist for the 2009 Governor General's Award, and on the Globe and Mail bestseller list. The Montreal Gazette review pronounced Innocence Lost to be "both a compelling legal drama and an astutely observed portrait of a community."
The Lonely Diner: Al Capone in Euphemia Township, premiered at the 2012 Blyth Festival and is published by Scirocco Drama.
If Truth Be Told is about a writer who returns to her home town to care for her ailing mother, and confronts censorship of her works in the school. Loosely based on the censorship of Margaret Laurence's The Diviners in Peterborough, and of Alice Munro's Lives of Girls and Women, If Truth Be Told premiered at the Blyth Festival in July 2016 (dir. Miles Potter). Cooper convincingly voices several different points of view through her characters, all of whom have strong convictions. As Miles Potter writes in the Director's Notes for the Blyth production, "The story of these people and the drama that results from their different opinions is the stuff of this play; the question of who controls the stories of a community and who has the right to tell them may be the 'issue,' but the emotional heart of the play is the age old question: can we go home again?"
Beverley Cooper has written extensively for CBC radio drama, including an adaptation of Rohinton Mistry's epic novel A Fine Balance, the original drama It Came from Beyond! and the drama series The Super Adventures of Mary Marvelous.
She was story editor on the radio series Afghanada, produced the second season, and directed five episodes. She has also dramatized the novels Alias Grace by Margaret Atwood, Away by Jane Urquhart, The Secret World of Og by Pierre Berton, and The Englishman's Boy by Guy Vanderhaeghe for radio.
Her television writing credits include episodes of Ready or Not, Sesame Park and Street Legal.
Beverley Cooper is a member of PEN Canada, and was invited to speak in Stockholm at the 2012 Women Playwrights International Conference. In October 2022, she was the winner of the Bra d'Or Award, a Playwrights Guild of Canada Tom Hendry Award which recognizes efforts in supporting and promoting the work of Canadian women playwrights.
Beverley Cooper lives in Toronto.
Website: www.beverleycooper.com
Source: Playwrights Guild of Canada
Profile by Anne Nothof, Athabasca University
Last updated 2022-11-04