Dykstra, Ted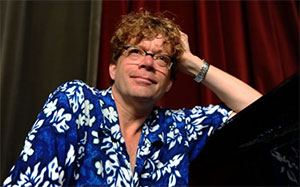 Ted Dykstra. Photo by Colin McConnell, Toronto Star.
Dynamic radio, film, television and theatre actor, director, playwright, and composer born in Chatham, Ontario in 1961, the son of immigrants from the Netherlands. He grew up in St. Albert, Alberta, and made his professional début, at 15, in Frank Moher's The Broken Globe for Theatre 3 in 1976. At the age of 18, he performed in Cause Célèbre at the Citadel Theatre.
Since his graduation from the National Theatre School of Canada in 1984, Ted Dykstra has been in great demand and has performed at many of the country's major theatres including the Factory Theatre (where he played the lead in the premiere of George F. Walker's Criminals in Love), Centaur Theatre (in Paul Ledoux and David Young's frantic musical Fire), at the Shaw Festival, Theatre Passe Muraille, Canadian Stage, and Neptune Theatre. At the Stratford Festival he played many leads (including Mozart in Peter Shaffer's Amadeus, Sloane in Joe Orton's Entertaining Mr. Sloane, Bottom in A Midsummer Night's Dream, and Pentheus in The Bacchae 1993).
A highlight of Ted Dykstra's early theatrical career was his performance in the Toronto mega-musical Tommy, when, as Cousin Kevin, many felt that he stole the show away from lead Tyley Ross. For this performance, he won a Dora Mavor Moore Award.
In 1995-98 he toured Canada and abroad with Richard Greenblatt in the musical they created, 2 Pianos, 4 Hands, for which they won the Dora Mavor Moore Award and the Chalmers Award. Ted Dykstra appeared in Walker's Suburban Motel series at Factory Theatre in 1997, and in Hedwig and the Angry Inch (April 2001) in Toronto. In 2011, he reprised the role of the jealous and murdurous husband in a monologue based on Tolstoy's novella, The Kreutzer Sonata at the Soulpepper Theatre Company at about the same time his twenty-year marriage to singer Melanie Doane was breaking up.
He is a founding member of Soulpepper, and has regularly directed its productions, including revivals of four plays by David French, and Billy Bishop Goes to War. He directed David Widdcombe's Science Fiction (November, 2000, Factory) and the San Francisco and Australian productions of 2 Pianos 4 Hands.
In 2013, the Charlottetown Festival premiered Evangeline with book, lyrics, and music all by Ted Dykstra. It was remounted at Charlottetown and the Citadel Theatre in November, 2015 (dir. Bob Baker).
In 2014, Dykstra co-founded Coal Mine Theatre with Diana Bentley, in a storefront space on Danforth in Toronto, with a mandate to produce challenging works.
He returned to the Citadel Theatre in Edmonton in 2019 to play Scrooge in a new version of A Christmas Carol by David Van Belle. In 2020, when the Covid-19 pandemic closed theatres across Canada and the world, he performed in a much reduced version of the classic play, which was filmed for on-line streaming.
His many awards include six Doras (acting, musical direction, production), one Gemini (acting), an Elizabeth Sterling Haynes Award (Sterling Award) (musical direction), a Merritt Award (directing), and a Chalmers Award (writing).
Source: Michael Posner. "One body, many talents," The Globe and Mail, Toronto, 29 November 2000. Additional information provided by David Baile and Joel Greenberg.
Profile by Gaetan Charlebois and Anne Nothof
Last updated 2022-10-12