Hagen, Darrin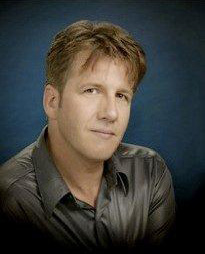 Darrin Hagen
Playwright, actor, sound designer, composer, performer, director, and TV host, based in Edmonton Alberta since 1982. He grew up in a trailer court in Rocky Mountain House during the 1970s.
Darrin Hagen has written or co-written over forty plays, many of which deal with gay issues in an exuberant, comic style, often with flamboyant drag characters which he performs himself, and produced by the company he formed in 1987 with his partner, Kevin Hendricks, "Guys in Disguise."
His first work, The Edmonton Queen: Not a Riverboat Story (Edmonton Fringe Festival, 1996), received an Elizabeth Sterling Haynes Award for outstanding new work in 1997. It is published by Brindle & Glass. His other Edmonton Fringe Movement plays include: Tornado Magnet: A Salute to Trailer Court Women (1997, dir. Ron Jenkins); Tranny Get Your Gun! (1998); Liíl Orphan Tranny (2000); Tranne of Green Gables (2002); Men Are Stoopid, Women Are Cra-azy (1999, co-written with Chris Craddock); PileDriver! (1999, with Wes Borg); BitchSlap! (2005); The Neo-Nancies (2006); Hitlerís Kickline (2006); Planes, Trans & Automobiles (2007) (with Dana Andersen); 2 Queens and a Joker (2008); Prepare for the Worst! with Trevor Schmidt; Flora & Fawna's Field Trip (2015) with Trevor Schmidt, which won the Sterling Award for Outstanding New Fringe Work. For the 2018 Fringe, Guys in Disguise went back to the 1960s for a comic look at a mother-daughter relationship while they purchase a wedding dress. Hagen played the domineering, conventional mother, and Trevor Schmidt played the insecure daughter.
In 2009, Hagen's play, Buddy, premiered at Theatre Network (dir. Bradley Moss). Two friends explore their different perceptions of life in a small Alberta town through the lens of a camera. In December 2010, Lunchbox Theatre premiered his hilarious seasonal comedy, With Bells On (dir. Ian Prinsloo), in which a drag queen dressed like a Christmas tree is trapped in an elevator with an uptight accountant. Hagen also choreographed the hilarious "belle of the ball" disco sequence. In an expanded version, it has played to enthusiastic audiences at Theatre Network during the run-up to Christmas in 2011, 2012, and 2013.
In October 2012, two of his works premiered in Edmonton: Typhoon Judy, a drag musical featuring Christopher Peterson as an outrageous Judy Garland just before her last overdose (Theatre Network); and Poof the Musical (book by Nick Green) in which an Alberta ice witch (played by Garett Ross in drag) attempts to indoctrinate her teenage daughter into the arts of evil (Capital Theatre in Fort Edmonton Park). In December 2013, his adaptation of Sartre's short story, "I Am Rimbaud", premiered at the former Catalyst Theatre space, C103, in a series of new works entitled Sartre's Shorts, developed by Surreal Soreal Theatre. A young man is seduced by a cynical roue, and persuaded to subscribe to Arthur Rimbaud's vision of decadent sensuality.
In February 2016, Hagen's new work with Trevor Schmidt, Klondykes premiered at Theatre Network. In this hilarious musical, two gay women barred from the Yukon because they are unaccompanied by a man, reinvent themselves as a married couple, and attempt to strike it rich, one way or the other. Hagen composed the music and piano arrangements and some of the witty lyrics.
Witch Hunt at the Strand (Workshop West Theatre, dir. David Cheoros) opened in November 2016. Set in 1942, it exposes the details of the persecution of the gay community in Edmonton by city police and the RCMP. A dozen men were arrested and charged with gross indecency. Several were associated with the theatre community at the Strand Theatre, a vaudeville house used by the Edmonton Little Theatre, and the fallout for the theatre scene was considerable. Davina Stewart enacts Elizabeth Sterling Haynes as a voice of sympathy and common sense in the play.
The Empress & The Prime Minister had its world premiere at Theatre Network in April, 2019 (dir. Bradley Moss). It enacts the life of drag queen ted northe, also known as the Empress of Canada (played by Hagen). In 1967, northe's activism for gay rights attracted the attention of the young Prime Minister Pierre Trudeau, who asserted that "There's no place for the state in the bedrooms of the nation," and supported the removal of homosexuality from the Criminal Code in 1969 through the enactment of Bill C-150 in 1969.
His autobiographical monologue, Metronome, premiered at Workshop West Theatre in November 2021 (dir. Heather Inglis). "Metronome is about falling in love with music, and the very special Ennis & Sons piano which changed Darrinís life. From growing up queer in small town Alberta, through his move to the Ďbig cityí" (Workshop West Facebook post).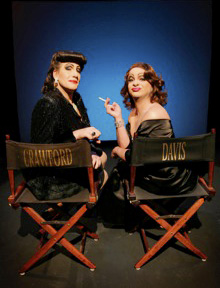 Darrin Hagen and Trevor Schmidt in BitchSlap!
Since 1991, "Guys in Disguise" has produced the annual Loud & Queer Cabaret with Workshop West Theatre. The first and largest queer performance festival in western Canada, the Cabaret supports the work of new writers. After a hiatus of three years, it returned in November 2014 with the title, "Let Me Be Perfectly Queer!" with 25 performances over two nights, including a new film by Brad Fraser. "Guys in Disguise" has toured its drag comedies across North America.
As an actor, Hagen has played drag and straight roles, including the title roles in Michel Tremblayís La Duchesse de Langeais (Edmonton Fringe, 2004), and Hosanna (Theatre Network, 2005).
He has composed evocative sound scores for Daniel Macdonaldís MacGregorís Hard Ice Cream & Gas (Shadow Theatre 2008); for David Belkeís The Science of Disconnection (Shadow Theatre 2010), Swordplay (Edmonton Fringe Festival 2014), and Becoming Sharp (2015); for Hannah Moscovitch's Little One (Theatre Network 2014), and for Conni Massing's Matara (Workshop West 2018) among many others for Edmonton theatres.
He has received seven Elizabeth Sterling Haynes Awards (Sterling Awards) and forty nominations for his work in the theatre, and an AMPIA award for his television work. In the fall of 2005 Hagen was named as one of 100 Edmontonians of the Century. In 2013 he was inducted into the Canadian Q Hall of Fame for his contributions to the national LGBTQ community. In 2016, he was named one of the twenty-five Most Influential Alberta Artists. He was Writer in Residence at the University of Alberta, the Edmonton Public Library in 2018, and at MacEwan University in 2021.
Profile by Anne Nothof, Athabasca University
Last updated 2021-11-15