Lipman, Nicola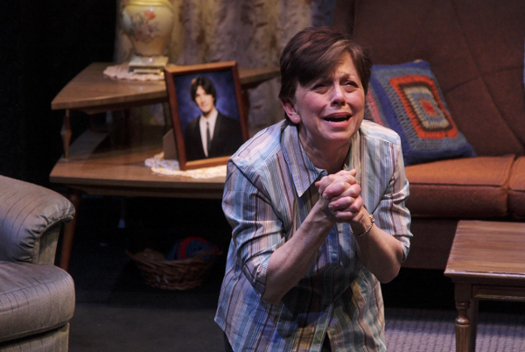 Nicola Lipman in The December Man, Citadel Theatre, 2008
Photo by Epic Photography
Actor, born in Vancouver, British Columbia and raised in England and Brazil. Nicola Lipman is a graduate of the University of British Columbia, Banff Centre for the Arts, and the National Theatre School of Canada. In 1969, shortly after her graduation from NTS, she played the role of Susan in the Vancouver PlayhouseGeorge Ryga's controversial counter-culture play, Grass and Wild Strawberries.
Since then, Nicola Lipman has performed a wide range of plays in theatres across Canada, including: Rabbit Hole at Alberta Theatre Projects; Hecuba at Blackbird Theatre; December Man by Colleen Murphy, at Canadian Stage and Citadel Theatre (2008); Scorched and Humble Boy for Tarragon Theatre; and Shirley Valentine for the Atlantic Theatre Festival.
Other performances include simply (National Arts Centre and Tarragon Theatre, for which she was nominated for a Dora Mavor Moore Award for Best Actress); The Fighting Days ( Eastern Front Theatre); the premiere of Jason Shermanís After The Orchard (NAC); Wit and Hamlet (Neptune Theatre); and Death of a Salesman, Sisters Rosenswieg and Anne Frank (Theatre Calgary).
In February 2009, Lipman participated in the playRites Festival, with a sensitive and engaging portrait of a feisty, elderly woman in Joan MacLeodís one-woman show, Another Home Invasion.
More recently, she appeared in Ominous Sounds at the River Crossing; or, Another Fucking Dinner Party Play by Jason Sherman, which questions the rationale for theatre in a world collapsing into chaos.
She researches her roles extensively: for her role as the self-taught artist, Maud Lewis in World Without Shadows (Blyth Festival 2007, dir. Gil Garratt), she spoke to people in the Digby, Nova Scotia area who had known Maud, and also investigated the nature of abusive relationships; for her role in Wit as a woman in the terminal phase of ovarian cancer, she spoke with women and the families of women who had been effected by the disease, and with medical personnel who care for cancer patients.
She has also acted on television and in film including Marion Bridge by Daniel MacIvor.
Nicola Lipman has been involved with theatre boards, Canada Council juries, the executives of ACTRA and Canadian Actors Equity, and the 2002 Siminovitch Prize in Theatre jury.
She was named one of the Top Ten Theatre Artists by NOW Magazine Toronto in its 2008 yearly review, and is the recipient of four Jessie Richardson Awards for outstanding performance. In 2012, she was awarded the Queen's Diamond Jubilee Medal.
Profile by Anne Nothof, Athabasca University
Last updated 2022-03-16