Poddubiuk, Christina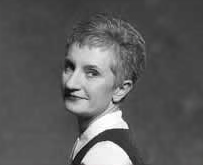 Christina Poddubiuk
Costume and set designer, born in England and raised in Montreal, Quebec. As a child, Christina Poddubiuk loved to read myths, legends, and fairy tales, and to draw the characters and scenarios.
She graduated with a B.A. in literature from McGill University, and then attended the National Theatre School of Canada where she studied design, mentored by Francois Barbeau. Poddubiuk worked at the Shaw Festival in the wardrobe department, and began her design career at the Stratford Festival as a dyer. She served there as a design assistant, working with Susan Benson, and then designed the costumes for the 1983 production of All's Well That End's Well. For Stratford she has since designed opulent, imaginative sets and costumes for over a dozen productions, including Twelfth Night (1985), She Stoops to Conquer (1985), Much Ado About Nothing (1987), The Merry Wives of Windsor (1990), Love's Labour Lost, Carousel, Memoir, The Merchant of Venice,Hamlet (2000, starring Paul Gross), Phedre (2010), John Gabriel Borkman (2016), Romeo and Juliet (2017), and Julius Caesar (2018).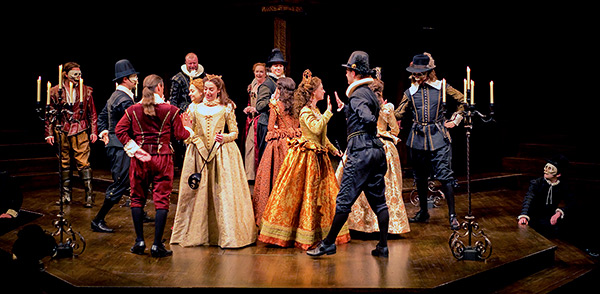 Romeo and Juliet, Stratford Festival 2017. Set and costumes by Christina Poddubiuk. Production photography by Cylla von Tiedemann.
She has also designed a wide range of productions for the Shaw Festival, including: Lady Windermere's Fan (costumes), The Chocolate Soldier, Ladies in Retirement, Getting Married, Anything Goes, Black Coffee, Girl Crazy, Heartbreak House (costumes, 1999), The Madras House (costumes, 1999, dir. Neil Munro), Picnic (2001), The Man Who Came to Dinner (2001), Widower's Houses (2003), Major Barbara (2005, dir. Joseph Ziegler), The Heiress (2006, dir. Ziegler), A Moon for the Misbegotten (2009, dir. Ziegler), On the Rocks (2011), Come Back Little Sheba (2012, dir. Jackie Maxwell), The Faith Healer (2013), and Pygmalion (2015, dir. Peter Hinton).
Poddubiuk has worked with theatre across Canada: For Citadel Theatre, she has designed costumes for Man of La Mancha (1984) and Robin Hood (1991); for National Arts Centre Mary's Wedding (2002) and Trying (2004); for Soulpepper Theatre Company Travesties (2009, dir. Ziegler); for Belfry Theatre A Tender Thing (2013, dir. Peter Hinton) and Venus in Firs (2014, dir. Michael Shamata); for Theatre Calgary The Light in the Piazza (2016, dir. Shamata); for Manitoba Theatre Centre The Audience (2017, dir. Christopher Newton); for Grand Theatre, London set and costumes for The Odd Couple (1991, dir. Martha Henry), and costumes for The Wars (dir. Dennis Garnhum).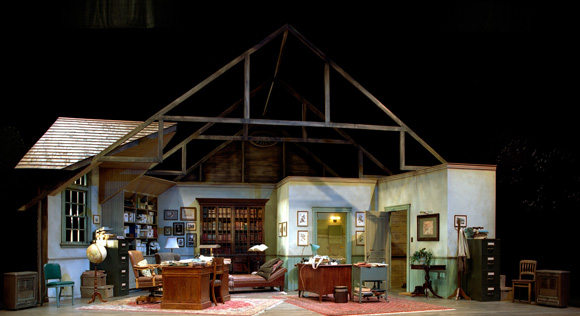 Poddubiuk's sets and costumes for opera are opulent, detailed, and evocative; e.g. La Traviata (Manitoba Opera, Edmonton Opera, Pacific Opera Victoria, Vancouver Opera, Opera de Montreal 2018-2020).
She has been nominated for the Dora Mavor Moore Award five times. She is the winner of a Sterling Award for the Phoenix Theatre production of Sweeney Todd in 1995.
She lives in Stratford, Ontario, where she has a design studio called Punch & Judy with her husband, Scott McKowen, a graphic artist.
Christina Poddubiuk's costumes and sets are wonders of taste and sensitivity to the production's concept. She aims to bring characters to life on stage, working collaboratively with the actors and the production team. Of her costume for the role of the nurse in Romeo and Juliet, Seana McKenna has said: "Christina does not create costumes for actors, so much as she creates clothes for characters... Christina is the Queen of combining wonderful textures and fabrics together" (quoted from "Character Sketches" catalogue, Summer 2018 exhibition).
Profile by Gaetan Charlebois and Anne Nothof.
Website: www.punchandjudy.ca
Last updated 2021-01-19