Wright, John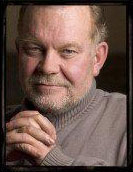 John Wright
Actor John Wright was born in 1951 and studied at the University of Saskatoon in Saskatchewan. He is based in Edmonton, Alberta, but has worked in theatres across Canada, from Halifax's Neptune Theatre to the Vancouver Playhouse.
A 46-year veteran of the Canadian stage, he has appeared in many productions of new Canadian plays: at Theatre Network in Excavations (2002) and All Clear (2004) by Eugene Stickland, and Palace of the End (2008, dir. Marianne Copithorne) by Judith Thompson ; at Alberta Theatre Projects in The Drawer Boy (2001) by Michael Healey, and Still Desire You (2007) by Paul Ledoux and David Young; at Workshop West Theatre in The Mighty Carlins (2008) by Collin Doyle, and The Seed Savers (2009) by Katherine Koller; and at Shadow Theatre in David Belke's That Darn Plot, and in Michael Melski's The Flyfisher's Companion (2007).
For Edmonton's Citadel Theatre, he has played Sammy in W.O. Mitchell's Who has seen the Wind?; Peter Stockman in Henrik Ibsen's An Enemy of the People; in Fire; Scrooge in Tom Wood's adaptation of A Christmas Carol (2010); and Beverly Weston in August: Osage County (2011). He has also performed in Of Mice and Men for Theatre Calgary and Canadian Stage.
With his partner Marianne Copithorne, he has been a regular performer in the Free Will Players Shakespeare Festival in Edmonton since 1995, appearing in over fifty productions of Shakespeare's plays: Prospero in The Tempest (2012), Macbeth in The Scottish Play, Titus Andronicus, Leontes in The Winter's Tale, Claudius in Hamlet, Shylock in The Merchant of Venice (2004 and 2017), King Lear (2013), and Friar Lawrence in Romeo and Juliet (2016). In 2011 a scholarship for needy children to attend Camp Shakespeare was named in his honour.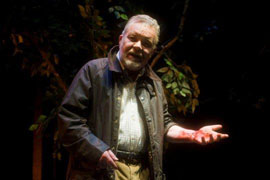 John Wright in Palace of the End
Theatre Network, 2008.
He excels in idiosyncratic roles - the curmudgeonly, irascible, anti-social individual - but he has a wide range. Of his role as Dr. David Kelly in The Palace of the End, critic Liz Nicholls writes: "John Wright fashions a portrait of guilty decency and atonement, coloured in pathos. His Kelly is addled and rather sweet, in the way of English storytellers. The effect is infinitely sad." (Edmonton Journal 1 Nov 08)
John Wright has also been a regular television and film actor. His credits include: Mentors, MacGyver, The Beachcombers, Danger Bay, Ray Bradbury Theatre, and Small Sacrifices.
He is member of a talented and highly-regarded Canadian acting family, with sisters Anne Wright, Susan Wright and Janet Wright, and a four-time Elizabeth Sterling Haynes Awards (Sterlings) winner. In 2015, after announcing his retirement from the stage, he was awarded a Sterling Award "In Recognition of a Career of Extraordinary Performances." Since then, he has acted in summer productions by Free Will Players, including a moving reprise of Shylock in 2017.
Profile by Anne Nothof, Athabasca University
Last updated 2022-03-10