Collier, Kim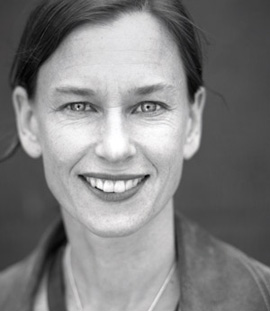 Kim Collier
Innovative director, dramaturge, and actor, based in Vancouver British Columbia and Toronto Ontario.
She studied acting at the University of Victoria, but quit before finishing and went to the Yukon to perform vaudeville at the Palace Grand Theatre. She resumed her training at Mime Unlimited in Toronto, and in 1994 graduated from the three-year acting program at Studio 58 in Vancouver.
In 1995, she co-founded Electric Company Theatre, a collective creation company, exploring the dynamics of physical movement, and the interaction of technology and the human body in site-specific productions. Under her direction, the company has created a dozen original works, including: The Wake, The Score, The One That Got Away, The Fall, Hive 1, 2, 3, Brilliant!, Studies in Motion (premiered at the PuSh International Performing Arts Festival, and toured to Yukon Arts Centre, Vancouver Playhouse, Alberta Theatre Projects, Festival TransAmeriques, and the Citadel Theatre 2010); Tear the Curtain! (Arts Club Theatre at the Stanley Industrial Alliance Stage 2010); 40 Days and Forty Nights with Daniel Brooks (2018), and the ambitious multi-media work about urban decadence entitled The Full Light of Day (2019), also with Brooks.
She has also directed film adaptations/hybrids of plays, including a film adaptation of The Score for the CBC. In 2010 her live-cinematic interpretation of No Exit toured to Theatre Calgary, Western Canada Theatre Company, Nightwood Theatre, and the American Conservatory Theatre in San Francisco (Spring 2011). In 2019, her collaborative multi-media work with Daniel Brooks, The Full Light of Day and the Electric Company Theatre, used camera closeups and screens on stage to project the emotional responses of the characters, and projections of cityscapes to evoke the threat of a rapidly developing urban environment.
Other directing credits include: A Dollís House (Chemainus Theatre Festival, 2007); Titus Andronicus (Bard on the Beach 2009); Red (Canadian Stage, Vancouver Playhouse, Citadel Theatre co-production, 2011-12); and carried away on the crest of a wave by David Yee (National Arts Centre 2018).
She also initiated the formation of Progress Lab, an alliance of some of Vancouver's innovative small theatres, which facilitates resource sharing and community building. Its first performance initiative was HIVE, featuring short installation pieces in one venue by eleven companies.
In 2010, she became Artist in Residence at Canadian Stage, and head of a Masters in Directing program in collaboration with York University.
Kim Collier is the recipient of multiple awards including four Jessie Richardson Awards for directing, a Betty Mitchell Award for Best Production, the Vancouver Mayorís Arts Award (2009), and the Siminovitch Prize in Theatre (2010).
In her acceptance speech for the Siminovitch Prize, Collier explains her main reason for making theatre -- creating community: "To create moments in time that will be undeniably present and shared. To engage audiences directly. To jump-start their emotional or intellectual connection to the material, to themselves and to each other. To provoke or inspire or even insist on dialogue after the show. To give the audience an incredible opportunity to feel alive. Alive because they just participated in an event they had not experienced before and which they never expected. ... [L]ive performance is a rare place where we share the investigation of who we are, what we believe, and find a collective experience in an increasingly mediated world that pulls us apart and forces us into isolation."
Her partner was actor Jonathon Young, Artistic Director of the Electric Theatre Company until 2011. Their daughter, Azra North Young, tragically died in a cabin fire at the age of fourteen, with her two cousins in 2009.
Profile by Anne Nothof, Athabasca University.
Last updated 2020-11-10