Ferry, David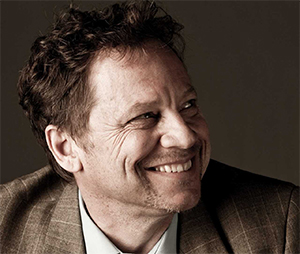 David Ferry. Photo by Cylla Von Tiedemann.
Ontario-based actor, director and dramaturg, with extensive experience in theatre, television, film and radio. He was born in St. John's Newfoundland and Labrador in 1951, and studied at Memorial University (1968-70). At the age of 15, he was cast in the lead role of Tom Cahill's Tomorrow Will Be Sunday, a searing play about sexual molestation. In 1967, the centennial year, the Dominion Drama Festival required that every entry be a Canadian play, and Newfoundland's entry was Cahill's work. Ferry's acting impressed playwright Michael Cook, who encouraged him to apply to the National Theatre School of Canada; he was the first actor from Newfoundland to be accepted there. One of his most influential instructors was Joy Coghill.
After graduating in 1973, Ferry worked extensively in radio drama, including the role of the cab driver in Midnight Cab for the Peter Gzowski show on the CBC (1992-1996, writer:James W. Nichol). He then experienced what he called "the defining theatre moment of my career" – participating in the creation and the production of James Reaney's The Donnellys, directed by Keith Turnbull. He has committed himself to the study and production of Canadian theatre since then.
Ferry's involvement with early Canadian alternative and experimental theatre continued under the direction of Bill Glassco at the Tarragon Theatre, where he played Jamie in David Freeman's You're Gonna Be Alright Jamie Boy (1974).
David Ferry has worked in most of the country's major theatres, including the Stratford Festival, the National Arts Centre, Centaur Theatre, the Royal Alexandra Theatre, Toronto Free Theatre, Citadel Theatre, Vancouver Playhouse, Theatre New Brunswick, and the Banff Centre for The Arts. He has also worked Off-Broadway, and in Los Angeles, Australia, and England.
An intense actor, Ferry has played leads in David Mamet's controversial Oleana, as well as in Children of a Lesser God, Hamlet, The Tempest, Suburban Motel (by George F. Walker), Mice and Men, Ahab in Moby Dick (adapted by Morris Panych, Stratford Festival, 2008), Burn This (Canadian premiere), and Billy Bishop Goes to War. More recently he performed in the Tarragon Theatre production of Alias Godot (October 2008); Crow's Theatre's Eternal Hydra (2009/10); the Buddies in Bad Times production of Blasted by Sarah Kane (September 2010, dir. Brendan Healy); Richard III and Titus Adronicus (Stratford Festival 2011); The Agony and Ecstasy of Steve Jobs, The Repudiation and Redemption of Mike Daisy (March 2011), Seeds (Porte Parole/Crow's (2012); The Lesson by Eugene Ionesco (Modern Times Stage Company, 2012); and The River (Coal Mine Theatre, 2015).
Of his role as a foul-mouthed, gin-soaked, racist tabloid reporter in Blasted, Martin Morrow wrote that any tenderness in the play is "due in large part to Ferry's vulnerable performance as Ian. Even when he's swaggering about, dictating prurient copy for his paper with relish or spitting out ugly racial epithets, a pained-looking Ferry lets us know that his sleazy scribe is really a sad, sick man. He's as pitiful and desperate for love as he is monstrous" (Globe and Mail, 30 Sept 2010: R3).
Ferry performed in the Chichester Festival production of The Last Confession (2014) starring David Suchet, which toured internationally to Toronto, L.A. and five cities in Australia. In January 2014, he played the role of a seasoned Romeo in a retirement home, in The Last of Romeo and Juliet by Mitchell Cushman (Talk is Free Theatre, Barrie, Ontario), with Diana Leblanc as his Juliet. In May 2016, he played James Tyrone Sr. in Long Day's Journey into Night at Blue Bridge Repertory Theatre at the Roxy in Victoria BC.
He won the 2014 Toronto Critics Best Actor Award, and the Broadway World best actor award for his performance in David Harrower's Blackbird. He won the Victoria Critics Best Actor award for his Willy Loman in Death of a Salesman. He won a Dora Mavor Moore Award for best actor for his role in Someone to Watch Over Me (opposite RH Thomson and Ryan Holliman) and has received seven Dora actor nominations in all.
He has acted in over 100 television and film projects, with a Genie nomination for Best Supporting Actor and Gemini considerations. He was a regular on three Canadian TV series. He also won the Nellie best actor award in 1986.
In 2003, he graduated from the University of Victoria with an MFA; his thesis was on James Reaney.
As a director he has directed in L.A. and across Canada on a variety of stages from the traditional proscenium (most recently directing Stuff Happens at the National Arts Centre, garnering Best Production and Best Direction nominations); and on thrust, site specific, found space, environmental, outdoor, multidisciplinary and studio or transformed spaces. He received a Dora Best Director nomination (as well as a Broadway World Best Direction nomination) for his direction of After Miss Julie (Storefront/REDONE (2013). He won the Dora Best Director as well as co-winning a Best Lighting Dora (with Glenn Davidson) for his hit, site specific, production of The Last Days of Judas Iscariot (Birdland Productions, 2006/08). He has also directed in Florence, Italy (the world premiere, in Italian, of Brendan Gall's Alias Godot). He has also directed Fire, Perfect Pie, Hank Williams; The Show He Never Gave, and alterNatives, while he was the Artistic Director of Bluewater Summer Playhouse from 1996-2001. In 2006-07 he was AD of Resurgence Theatre Company, where he directed celebrated productions of A Midsummer Night's Dream and Much Ado About Nothing.
He has taught and directed at George Brown College, Humber College, Sheridan College, University of Victoria, Erindale Collge, Bishop's University, and the National Theatre School of Canada.
Ferry has also served as dramaturg on many new Canadian works; and has edited playtexts for Playwrights Canada Press, including He Speaks, a collection of monologues for men, and Reaney Days in the West Room, a collection of plays by James Reaney. He has also compiled an audio collection of Canadian dialects for actors entitled Canajun, Eh? (1996).
David Ferry was awarded the 2011 City of Toronto Barbara Hamilton Memorial Award for Excellence in the Arts. He was the Arts and Letters John Coulter (honorary) Member for Stage for two terms (2010-2013). He has served as National Chair of ACTRA Performers Guild; Vice President (External) of Canadian Actors Equity Association, and is Chair of the Board of ACTRA Fraternal Benefits Society, as well as sitting on the board of Actors' Fund of Canada.
He is married to actor and director Kyra Harper.
Profile by Anne Nothof, Athabasca University. Additional information from Richard Ouzounian, Toronto Star 2 Aug 2008. Updated by David Ferry, October 2015.
Last updated 2021-10-28