Elter, Sheldon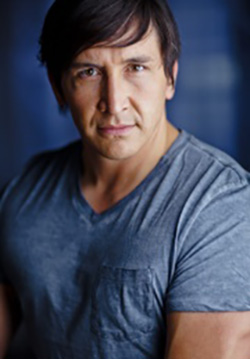 Sheldon Elter
Powerful, versatile Métis actor, writer, stand-up comic, musician and director, Sheldon Elter grew up in Grand Prairie, Alberta, and is currently based in Edmonton. He studied acting and playwriting at MacEwan University, under the mentorship of playwright Kenneth Brown.
As a writer and actor, Sheldon Elter has been a huge fan of Tomson Highway, who was his literary hero, and who gave him the courage to tell his own stories. He had never before seen Indigenous people on the stage and heard their voices, before encountering the works of Highway.
Sheldon Elter's one-man show, Métis Mutt, began as an eight-minute monologue at Theatre Network's NextFest 2001, which he and Ken Brown then reworked and expanded into a full-length work for the 2002 NextFest Festival. Subsequently, Métis Mutt became an Edmonton Fringe Festival hit, and won two Sterling Awards for Best Actor in a Fringe Show and Best New Fringe Work. It toured to Whitehorse as part of the Nakai Theatre Comedy Festival in 2003; participated in the first Magnetic North Theatre Festival in Ottawa, 2003. It also toured to Auckland, New Zealand for six shows in the AK03 Festival with The Edge Theatre. It was then adapted for a high school tour with Azimuth Theatre and travelled to northern Alberta. As a motivational speaking tool, it visited many reserves and settlements in its simplest form as a monologue, followed by a workshop to help students build confidence through telling their own stories. It was again revised and performed in 2017 at Native Earth Performing Arts, and in 2018 at Theatre Network (dir. Ron Jenkins). For this production, the play was awarded an Elizabeth Sterling Haynes Award, and Elter was awarded a Sterling for Outstanding Actor.
Métis Mutt is an autobiographical account of Elter's struggles as an adolescent with an abusive alcoholic father, and his determination to find his own path – through humour and self-reflection: "I am constantly learning who I am, and slowly learning to take responsibility for my own actions. I hope my audiences know that they don't have to have all the answers right now either. I hope they are inspired to create positive change for themselves" (Theatre Network program, January 2018).
Elter's many diverse theatre credits include roles in: Evangeline (Citadel Theatre/Charlottetown Festival); Crazy For You, Alice Through the Looking Glass, One Man Two Guvnors, Julius Caesar, A Prairie Boy's Winter and Vimy (Citadel Theatre); The Crackwalker (Kill Your Television Theatre); Tartuffe, Sound of Music, Enron (National Arts Centre); L'Homme de la Mancha (L'UniThéâtre); HROSES: An Affront to Reason (The Maggie Tree); NEVERMORE (Catalyst Theatre); HAIR the Musical, Shear Madness, The 25th Annual Putnam Spelling Bee, The Buddy Holly Story and The Full Monty (Mayfield Dinner Theatre); and roles in King Lear, A Midsummer Night's Dream, Two Gentlemen of Verona (The Musical), The Winter's Tale, Romeo and Juliet (as Romeo, with his wife Kristi Hansen as Juliet), Love's Labour's Lost, Twelfth Night and The Merchant of Venice for the annual Free Will Players Shakespeare productions in Edmonton.
In 2018, he enacted the a man on the run in the wilderness after sabotaging a Pipeline Company where he has worked. As he becomes more integrated with the natural world, he gradually morphs into a bear, in Bears by Matthew MacKenzie (Alberta Aboriginal Performing Arts and Punctuate! Theatre co-production, dir. MacKenzie). Elter also appeared as a Métis oil worker, unemployed after the Fort McMurray fire in Bust (renamed After the Fire) by Matthew MacKenzie in a co-production by the same companies. In January 2020, he appeared in the premiere of The Ministry of Grace by Tara Beagan at the Belfry Theatre; and in September 2021, he played a friendly Métis construction company owner mistaken for a homeless man in The Garneau Block at the Citadel's MacLab Theatre. From May 26 to June 26, 2022, he performed in Where the Blood Mixes by Kevin Loring, a co-production of Native Earth Performing Arts and Soulpepper Theatre Company, for which he received a Dora Mavor Moore Award for Outstanding Performance in a Featured Role.
In September 2022, Elter played Kent in the Soulpepper Theatre Company's double bill, King Lear by Shakespeare and the premiere of Queen Goneril by Erin Shields. He returned to Edmonton to play a demonic Sweeney Todd in Sondheim's infamous musical for Plain Jane Theatre Company in November 2022 (dir. Kate Ryan).
As a stand-up comic, he has emceed and been host at both Breaker's, and Dave's Comedy Saloon, and has toured western Canada twice as the opening comedy act for Hypnotist, Marc Savard. He was also a Top 14 finalist on Canadian Idol in 2006. He is a writer and actor for the Aboriginal Peoples Television Network series, CAUTION: May Contain Nuts, and a core-member of the ukulele rock band sensation, The Be Arthurs. Other TV credits include: Hank Williams' First Nation, Delmer and Marta and Hell On Wheels. His first love, however, is live theatre.
He is married to Edmonton actor, Kristi Hansen.
Source: http://muskratmagazine.com
Profile by Anne Nothof, Athabasca University.
Last updated 2023-02-28