Healey, Michael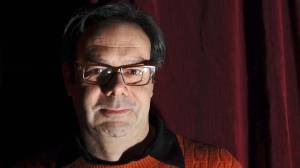 Michael Healey
Playwright and actor Michael Healey was born August 25, 1963 in Toronto and raised in Brockville, Ontario. He graduated from the acting programme at Toronto's Ryerson Theatre School in 1985, and he has acted in the plays of Jason Sherman (The League of Nathans, Reading Hebron, and Three in the Back, Two in the Head); and of George F. Walker (The End of Civilization, Better Living), among others. In 1995 he was a member of the acting company at the Blyth Festival, where he encountered the history of The Farm Show, an experience which inspired his own play, The Drawer Boy.
He performed in his own first play, a one-act monologue entitled Kicked, at the Fringe of Toronto Festival in 1996, and toured it across Canada and to Australia. In 1998 Kicked won a Dora Mavor Moore Award for Outstanding New Play. In 2005 he performed in Morwyn Brebner's The Optimists at the Tarragon Theatre, and in his own plays The Innocent Eye Test at the Royal Alexandra Theatre, and Courageous at the Tarragon and Citadel Theatre in 2010. With Peggy Baker, he devised and performed in Radio Play (2008) and Are You Okay? (2011, dir. Daniel Brooks).
As an actor Michael Healey has also appeared in the CBC TV series, This is Wonderland, scripted by George F. Walker.
He has written a wide range of entertaining, intelligent, and provocative plays. Early works include The Road to Hell, a pair of one-act comedies (with Kate Lynch, Tarragon Theatre 1999). His first full-length play, The Drawer Boy is based on the experiences of a group of young actors who "researched" rural life in southern Ontario in order to collectively create The Farm Show for Theatre Passe Muraille in 1972. The Drawer Boy was produced by Theatre Passe Muraille in Toronto in 1999, and remounted by Ed Mirvish Productions at the Winter Garden in the Elgin and Winter Garden Theatre Centre. In 2001/02 it was remounted in co-production between the National Arts Centre English Theatre in Ottawa and the major "regional" theatres, including the Citadel Theatre, Theatre Aquarius, and Vancouver Playhouse. The Drawer Boy is one of the most-produced Canadian plays in the country and in the United States in the past few years. A French version has played in Montreal, and it has been translated into German, Japanese, Hindi, and Portuguese. It was optioned for a film by an arm of Chicago's Steppenwolf Theatre Company. It has won four Dora Awards, including Outstanding New Play and Outstanding Production of a Play (1999), a Governor General's Award for Best English Drama (1999), and a Chalmers Award (2000).
Plan B premiered at the Tarragon Theatre in 2002, and has also been produced by Alberta Theatre Projects (2003) with Michael Healey in the lead role. It constitutes a significant departure from the themes and setting of The Drawer Boy. Plan B, alluding to the Federal government's strategy should the Separatists win the last Quebec referendum, is an urban, political allegory in which personal intimacy is paralleled to the relationship between English and French Canada.
Rune Arlidge, a three-act tragedy, opened at the Tarragon in March 2003. Set in a family cottage in southern Ontario, it explores a 25-year period in the dysfunctional lives of a mother and her two daughters, who create their own histories and narratives in order to survive.
Generous, a two-act satirical comedy, also premiered at the Tarragon in October 2006 (dir. Daryl Cloran). The first act introduces four different plots, which are resolved in the second act, with some of the same characters appearing in each act. The opening piece, a farce about a political party just before its fall from power, establishes the themes of ambition and greed, both of which may also be pursued through apparently altruistic acts.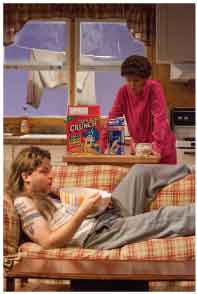 The Nuttalls, Blyth Festival 2009, with Gil Garrett and Catherine Fitch.
In the summer of 2009, Healey's "nutty" comedy, The Nuttalls opened at the Blyth Festival, directed by Kate Lynch. Set in a summer resort on Lake Huron (near Blyth) named Confederation Cabins, it depicts the dysfunctional relationship of the mother and son who operate it. Catherine Fitch played the mother who believes she has a terminal illness, and Gil Garratt played her deadbeat son who threatens to leave by joining the army and leaving for Afghanistan—proving once again that family members treat each other much worse than strangers.
Courageous (Tarragon 2010, dir. Richard Rose) tells two parallel stories: In Act I a gay Catholic justice of the peace refuses to wed two gay men on religious grounds, and is sued for his contravention of perceived "rights"; in Act II a young Canadian with a philosophy of "What the fuck" blows all of his advantages, while an immigrant Somali sets an example for citizenship and gradually usurps the Canadian's place at home and at work. The play demonstrates the courage that is required to stand up for one's convictions, and the often negative consequences of an intransigent belief, as well as the consequences of having no convictions at all. It also shows "What happens when rights conflict with freedoms, and with each other" (Liz Nicholls, Edmonton Journal 21 Feb 2010: B2).
In 2011, Healey's adaptation of Bernard Shaw's political comedy On the Rocks played at the Shaw Festival. Political and philosophical discussion and argument are what makes plays interesting, Healey believes, referencing his admiration for the works of British playwright David Hare with their dialectical construction, and the balancing of opposing points of view.
Healey was playwright-in-residence at Tarragon from 2000 until 2011, when he left in protest over Richard Rose's decision not to program his satirical play on Canadian politics in general and Prime Minister Stephen Harper in particular, entitled Proud. In September 2012, Healey mounted the play at the Berkeley St. Theatre, playing the role of Harper himself (dir. Miles Potter). Proud is the final play in his trilogy on three virtues or ideals, including Generous and Courageous. Proud asks the question, what makes Canadians proud of their country, and examines the beliefs which motivate action (or not), most specifically, the conflict between self-reliance and social welfare. "Harper" is cast as an advocate of self-reliance: his main agenda is to reduce the size of government so that individuals will take more personal initiative. He instigates and enforces his agenda by controlling others. He finds in a newly-elected MP from Quebec, however, a destabilizing adversary, whose belief in the importance of personal freedom is expressed through a liberal sexuality.
Andrew Wheeler & Emmelia Gordon in Proud, Firehall Theatre, 2014. Photo by Pink Monkey Studios
In his review, Richard Ouzounian hails the play as "Dazzlingly witty, surgically precise and scathingly satirical" (The Star 24 Sept 2012). J. Kelley Nestruck compares it to the works of G.B.Shaw: "In the grand, contrarian tradition of Bernard Shaw, Healey has taken a character you expect to be laughing at and given him the best lines and most convincing justifications. His Harper gets a couple of killer speeches, provocative and hilarious – notably one where he lists all the things that secretly he doesn't care about and that he has only taken a position on to build his coalition" (Globe and Mail 27 Sept 2012). Jerry Wasserman's review of the Firehall production in Vancouver, 2014, also gives Healey credit for creating more than a cartoon of Harper: "But the Stephen Harper of Proud is no monster. He's just a man: goofy, uptight, controlling, flawed but intensely human. And maybe most dangerous for that very reason (The Province 11 Apr 2014). Proud is Healey's second-most produced play, after The Drawer Boy.
Healey's next play, 1979 premiered at Alberta Theatre Projects in April, 2017 (dir. Miles Potter). It considers the plight of former PM Joe Clark, as he deliberates whether to present a budget to parliament that will probably result in the Conservative Party losing power. One actor plays the role of Clark, and two others of a series of visitors/temptors to his office, who try to persuade him to abandon his conviction that he must do what he has promised the electorate: John Crosbie, Pierre Eliot Trudeau, Flora MacDonald, and Maureen McTeer, all with credible political arguments. Projected text on the back wall illuminates the ironies and idiocies of Canadian politics.
In 2019, Stratford Festival produced Healey's farcical adaptation of the classic 1928 American newspaper comedy The Front Page by Ben Hecht and Charles MacArthur, the first work by a Canadian playwright performed on the Festival Theatre stage. Set in Chicago during a corrupt election, it alludes to the importance of a free press during the Trump presidency. Directed by Graham Abbey, The Front Page features Maev Beaty and Ben Carlson as a ruthless newspaper owner and an indefatigable reporter, with a large ensemble of scribblers and politicians scrambling for a headline.
Healey has been awarded a Chalmers Award, and five Dora Mavor Moore Awards for Best New Play.
He is married to playwright Morwyn Brebner; they are the parents of twins. His eldest daughter from his first marriage to Alison Lawrence--Emma Healey--is a published poet.
Profile by Anne Nothof, Athabasca University
Last updated 2019-10-17