Maxwell, Jackie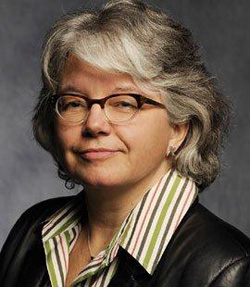 Jackie Maxwell
Director and dramaturge, born in Belfast, Northern Ireland in 1956, and raised there. Her mother was an English and theatre teacher. Jackie Maxwell attended Victoria College Girls Grammar School, and participated in the youth program at the Lyric Players Theatre, founded by Mary O'Malley. There, she was introduced to the poetic, mythic plays of W.B. Yeats, such as At the Hawk's Well and Deirdre of the Sorrows, and learned the importance of rhythm and language in theatre. During the 1970s, she studied drama at Manchester University, where she was introduced to the political orientation of productions at the Stephen Joseph Theatre. She also acted in Ireland and England. She moved to Canada in 1978, after meeting Canadian actor, Benedict Campbell, whom she married (and later divorced). They have two daughters.
She learned the art of directing as assistant to the artistic director at the National Arts Centre, and has subsequently worked with many Canadian theatre companies and artists. She is particularly interested in developing new work by women.
She was Associate Director of the Factory Theatre in 1983, and Artistic Director from 1987 to 1995. At the Factory Theatre, she developed and produced early works by now prominent Canadian playwrights such as George Walker, Michel Marc Bouchard, Sharon Pollock, Ann-Marie MacDonald and Michel Garneau. For the Factory she has directed: Adam Pettle's Zadie's Shoes (remounted by Mirvish Productions at the Elgin and Winter Garden Theatre Centre); Raymond Storey's Girls in the Gang; and Sally Clark's Moo. She also staged the English-language premiere of Serge Boucher's Motel Hélène in April, 2000.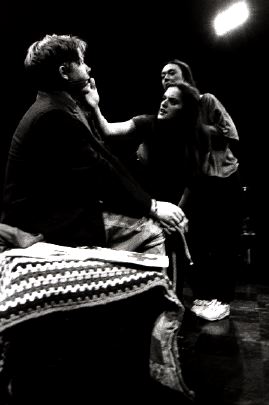 Class Acts; Three New One-Act Plays (Luke Verbrugge)
by Emma Roberts, directed by Jackie Maxwell at the
National Theatre School of Canada
, 1996. Photo by Robert Etcheverry.
In 1998 she directed former roommate Shelagh Stephenson's The Memory of Water at Tarragon Theatre; the work went on to win the Olivier award when it was staged in London, England. In 2000 David Mirvish revived her production in Toronto at the Elgin/Winter Garden Theatre. She has also directed at the National Theatre School of Canada; Canadian Stage (British verbatim musical London Road 2014, for which she won the Toronto Theatre Critics' Award for best director of a musical); Theatre Calgary; Manitoba Theatre Centre; Grand Theatre, London, Stratford Festival (The Changeling 2017, Paradise Lost 2018); and Citadel Theatre (The Humans 2018).
From 1998-2000, she was the director of new play development for the Charlottetown Festival.
From 2002 to 2016, she was Artistic Director of the Shaw Festival. For the Festival she directed over twenty productions, including: William Inge's Picnic (2001); Shaw's Candida, Pygmalion, Arms and The Man and Saint Joan (2007); Chekhov's Three Sisters and Uncle Vanya; Michel Marc Bouchard's The Coronation Voyage and The Divine; Githa Sowerby's, Rutherford and Son (which later played at the National Arts Centre in Ottawa). In 2014, she directed an outstanding production of Sean O'Casey's Juno and the Paycock, which subtly pointed to correspondences between the "Troubles" in Ireland and contemporary killing fields. Her final directing gig for Shaw as AD was Sweeney Todd: The Demon Barber of Fleet Street with Benedict Campbell as the barber.
She gradually "elasticized" the mandate of the Shaw Festival to include more works by women, and more Canadian playwrights, such as Ann-Marie MacDonald (Belle Moral: A Natural History). Canadian playwrights were also commissioned to "adapt" plays, such as Ferenc Molnar's The President by Morwyn Brebner (2008), and Shaw's On the Rocks by Michael Healey. Maxwell brought on board women directors, such as Gina Wilkinson (Candida 2011), Eda Holmes (Cat on a Hot Tin Roof 2011), and Alisa Palmer. In other words, she brought to the Shaw the considerable resources of Canadian theatre.
She considers herself a "text-oriented" director; but silent time spent on stage can be as effective as speech. She builds productions through the full resources of the creative team, beginning with the set designer. For her work with "classic" plays, she finds her own way of experiencing the imagined world; for new plays, she tries to deliver the world imagined by the playwright for the first time. ("The Importance Of Behaviour - The Power Of Simply "Being" Onstage, our Industry Session with Jackie Maxwell, Citadel Theatre 14 August 2020).
Jackie Maxwell has been dramaturge and teacher at the Banff Centre for the Arts, York University, George Brown College, Queen's University, and the National Theatre School of Canada in Montreal. For eight years she was Guest Artist/Lecturer at the Graduate Centre for Study of Drama at the University of Toronto.
In October 2005 she received the National Theatre School's Gascon-Thomas Award in recognition of her exceptional achievements in Canadian theatre. In June 2007 she was awarded an honorary degree of Doctor of Humanities from the University of Windsor. In 2008 she was awarded the Herbert Whittaker/Drama Bench Award in recognition of her exceptional achievements in Canadian theatre. The Studio Theatre at the Shaw Festival is named after her.
She currently lives in Toronto.
Source: Shaw Festival website: www.shawfest.com
Profile by Gaetan Charlebois and Anne Nothof
Last updated 2021-04-20