Jenkins, Ron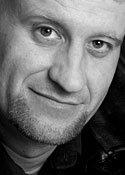 Ron Jenkins
Versatile and highly acclaimed freelance playwright, director, producer, and actor, born in Cape Breton, based in Alberta until 2018, when he returned to Cape Breton. He has worked in theatres across the country. His direction of musical theatre is particularly imaginative and entertaining.
While enrolled in an Arts program at Cape Breton University, he was asked by his English professor to play Fortinbras in a production of Hamlet when an actor became ill. He became hooked on theatre, and less interested in Political Science and Law. He moved to Toronto in 1985, where he worked as an actor, then to Winnipeg and Edmonton.
His own plays include: About Face (1989); Elizabeth Almost By Chance: A Woman; and Eureka (Edmonton Fringe Festival, 1992), set in a car showroom, into which an actual car drove through the doors to start the show.
Extinction Song (Citadel Theatre 2009, directed by Jenkins, starring Ron Pederson) is the story of an abused young boy who takes refuge from reality by reincarnating himself as a wolf. It won an Elizabeth Sterling Haynes Award for outstanding production and outstanding new play.
In 1999, Ron Jenkins directed the acclaimed cabaret-style piece, The Black Rider, The Casting Of The Magic Bullets at the New York Fringe Festival (produced by Corinne Kessel and Michael Scholar Jr. for November Theatre). The Black Rider was adapted by Tom Waits, William Burroughs and director Robert Wilson from a traditional German story, in which a young man bargains with the devil for seven magic bullets in order to win the woman he loves. In 2000, The Black Rider toured to the Winnipeg Fringe Festival and back to the Edmonton Fringe Festival (where it had premiered in its original version in 1998, directed by Michael Scholar Jr.), and enjoyed an extended run at the Roxy Theatre (Sterling Award for Best Fringe Production). Since 2004, November Theatre has produced the play in theatres across Canada: Theatre Network, Persephone Theatre, Ground Zero Theatre, PuSh International Performing Arts Festival and Intrepid Theatre. In 2006, The Black Rider was remounted for the Magnetic North Theatre Festival. In 2008, it returned to Vancouver with a run at the Arts Club Theatre, co-presented by the PuSh Festival. The show was retired in the fall of 2008 after a six-week sold-out run at Tarragon Theatre. The Black Rider has made Canadian theatre history: it became the only show to have ever been honoured by the Jessie Richardson Awards, the Betty Mitchell Awards, the Sterling Awards, and the Dora Mavor Moore Awards.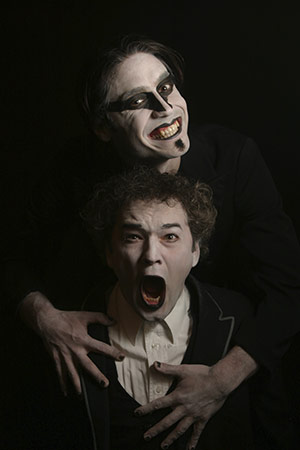 The Black Rider
,
Theatre Network
2004.
Michael Scholar Jr (top) and Kevin Corey.
Photo by Ian Jackson, Epic Photography Inc.
From 2000 to 2007, Ron Jenkins was Artistic Director of Workshop West Theatre, where he premiered new Canadian plays every season, often acting as dramaturg. At Workshop West, he directed Respectable (2001) and 17 Dogs (2003) by Ron Chambers; Mary's Wedding by Stephen Massicotte; Apple by Vern Thiessen (2002); and Mesa by Doug Curtis.
Other diverse directing credits include: The Forbidden Phoenix by Marty Chan (Citadel 2008); BASH'd by Chris Craddock and Nathan Cuckow (2008, which toured extensively, including a stint in New York); Any Night by Daniel Arnold and Medina Hahn (Touchstone Theatre 2009); The Red Priest, The Blue Light, and Nisei Blue by Mieko Ouchi playRites 2003, 2006, 2011); The Trespassers by Morris Panych (Belfry Theatre 2010); True Love Lies by Brad Fraser (Citadel 2011); Chicago (Mayfield Dinner Theatre 2012); Next to Normal (Citadel 2012); Stopheart by Amy Lee Lavoie (Factory Theatre 2013); Diligent River Daughter by Scott Burke (Ship's Company Theatre 2013).
For the Alberta Theatre Projects' production of Playing with Fire: The Theo Fleury Story by Kirstie McLellan Day (2012), he "rehearsed" with actor Shaun Smyth on a hockey rink for the production on a small on-stage rink of synthetic ice.
In March 2016, he directed Turn of the Screw for Vertigo Theatre, and in February 2017, he directed a high-energy and hilarious interpretation of The Government Inspector in pantomime style at the University of Alberta Studio Theatre. He directed a newly conceptualized revival of Metis Mutt by Sheldon Elter to great effect in 2017 (Native Earth Performing Arts 2017; Theatre Network 2018).
He continues to support new theatre initiatives: In February, 2019, he directed the premiere of Lake of the Strangers, an imaginative and animated solo piece by indigenous actor Hunter Cardinal and his sister Jacquelyn Cardinal at the Fringe Theatre in Edmonton.
Since returning to Cape Breton, he has directed at the Neptune Theatre, Ship's Company Theatre, and Highlands Arts Theatre in Sydney (The Drawer Boy January 2020). In November 2020, he directed an imaginative and relevant production of Billy Bishop Goes to War at the Highland Arts Theatre for a live audience when the Covid-19 pandemic was closing theatres across Canada and the world; the production was also live-streamed across the country.
Ron Jenkins has won ten Sterling Awards as a director and playwright. He won the 1st Annual Calgary Critics Award, and a Betty Mitchell Award for Playing with Fire (Alberta Theatre Projects 2012). In 2007 and 2010, he was shortlisted for the Siminovitch Prize in Theatre for directing.
Source: November Theatre website: www.novembertheatre.com
Profile by Anne Nothof, Athabasca University
Last updated 2020-11-13