Vlaskalic, Daniela
Multi-talented actor, playwright, and producer. Daniela Vlaskalic graduated with a Bachelor of Fine Arts in acting from the University of Alberta in 1998.
With university classmate, Beth Graham , she founded Bent Out of Shape Productions, a company dedicated to: "the collaboration between creation based artists in voicing ideas and issues that are important to them and challenge their community; the celebration of the freedom of expression that we have today by looking at examples of oppression in history; the creation of strong roles for women in the theatre"(website).
Vlaskalic, Graham and Charlie Tomlinson created The Drowning Girls in 1999 for the Edmonton Fringe Festival. A revised version of the play premiered at Alberta Theatre Projects' 2008 playRites festival (imaginatively designed by Narda McCarroll and Bretta Gerecke), and toured nationally. It was published by Playwrights Canada Press, nominated for the Carol Bolt Award, and received the Gwen Pharis Ringwood Award for Drama in 2010. Set in Edwardian London, it features the three dead wives of the philandering murderer, George Joseph Smith, all sitting in the baths in which they were drowned for the insurance money. Vlaskalic, Graham, and Natascha Girgis played the brides in white wedding gowns which evoke their tragic spectral state as they experience the moments that preceded their deaths.
Other collaborations include Comrades (with Graham and Tomlinson), in which two young anarchists leave their villages in Italy to pursue their dreams in the United States. Facing discrimination and political paranoia, they are mistakenly imprisoned for murder for seven years and electrocuted.
In The Last Train (with Graham, Shadow Theatre 2003), art work confiscated by the Nazis leaves Paris for an uncertain future. Five actresses play the roles of the portraits.
With Theatrefront and Hit & Myth, Daniela Vlaskalic and Beth Graham created Mules (Crow's Theatre, February 2019, dir. Vikki Anderson). "Holed up in a washroom in Vancouver's International Airport, Cindy and Crystal are fighting for their lives. Crystal has a belly full of cocaine and a limited time to get it out of her system and Cindy is trying to keep her violent drug smuggling boyfriend at bay. When the janitor interrupts them, the crisis escalates and the consequences are tragic" (Theatrefront website).
In May 2022, Dora Maar: The Wicked One by Graham and Vlaskalic premiered in the Big Secret Theatre, Arts Commons, Calgary, part of One Yellow Rabbit's 36th annual High Performance Rodeo. It was directed by Blake Brooker, with Vlaskalic as Dora Maar. In 1935, the brilliant photographer and artist, Dora Maar meets Pablo Picasso at a café in Paris, beginning a relationship that was mutually inspirational and tempestuous. Maar was the model for Picasso's fractured portrait of a weeping woman.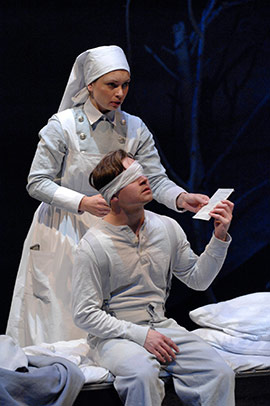 Daniela Vlaskalic and Phil Fulton in Vimy. Photo by David Cooper.
In October 2022, Vlaskalic's play Sleight of Mind premiered at Western Canada Theatre Company in association with Hit & Myth Productions (dir. James MacDonald). Rudi Schneider has astonishing paranormal abilities, and is caught between the worlds of the living and the dead, his loving fiancee and a ghostly woman with a dark secret, in his quest to become the greatest spiritual medium of all time (Western Canada Theatre website).
Vlaskalic has appeared on many stages across Canada. Selected credits include: Doubt (Canadian Stage, 2009); Helena in All's Well That Ends Well, Hamlet, Taming of the Shrew (Stratford Festival); Vimy and Einstein's Gift by Vern Thiessen (Citadel Theatre); Arms and the Man (National Arts Centre, Citadel Theatre, Vancouver Playhouse); Cripple of Inishmaan and God of Carnage (Theatre Calgary); The Blue Light by Mieko Ouchi (Fire Hall Arts Centre); Nora in A Doll's House (Persephone Theatre); At the Zenith of the Empireby Stewart Lemoine (Teatro La Quindicina); Drama: Pilot Episode by Karen Hines playRites'12 Festival, Hippies and Bolsheviks, Picking up Chekhov by Mansel Robinson (playRites '06); Apple by Thiessen (Workshop West Theatre, 2002); Featuring Loretta (theatre riffraff, Magnetic North Theatre Festival 2003); Love's Labour's Lost, Romeo and Juliet, Merchant of Venice, Twelfth Night, Two Gentleman of Verona (Free Will Players); Twelfth Night, Strawberries in January by Evelyn de la Chenelière, The Red Priest by Mieko Ouchi (Globe Theatre); Goodnight Desdemona (Good Morning Juliet) (Belfry Theatre 2013); Cockroach (Alberta Theatre Projects 2016); The Orange Dot (Theatrefront 2017).
In 2012, with Ron Pederson, she formed The Theatre Department company in Toronto. To celebrate Edmonton's Teatro La Quindicina's thirtieth anniversary, she appeared with Ted Dykstra in Lemoine's two-hander The Exquisite Hour in The Theatre Department production in Factory Theatre's studio space.
Daniela Vlaskalic excels at playing intelligent, independent women with an emotional range that makes a strong impact on the audience. She has been nominated twice for a Betty Mitchell Award, for Drama: Pilot Episode and God of Carnage.
She currently lives in Toronto.
Website: www.danielavlaskalic.com
Profile by Anne Nothof, Athabasca University
Last updated 2022-11-07